Coating derived from green chemistry, nature
Marie Donlon | January 14, 2021
Chemists from the University of Groningen in the Netherlands, in collaboration with painting and coating manufacturer Akzo Nobel, are turning biomass into a coating using oxygen and ultraviolet (UV) light.
The team turned to lignocellulose — a component of plants — to create the coating base as an alternative to the petrochemical-based monomers often used in the making of paints and coatings.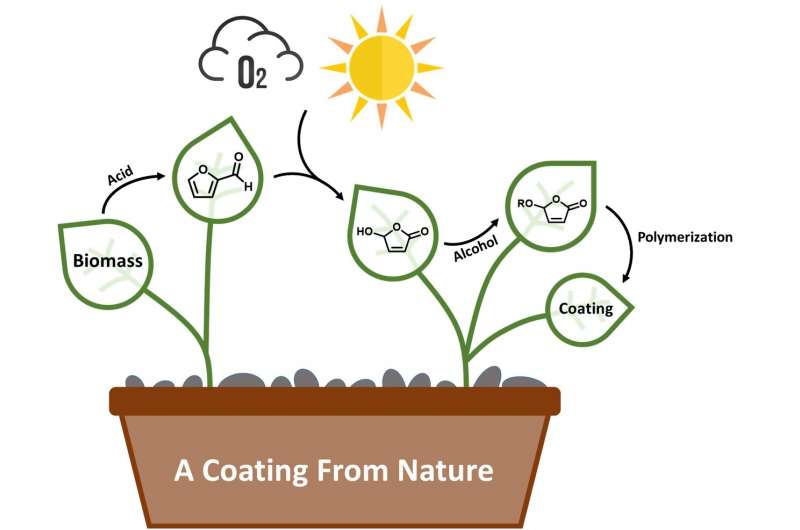 Lignocellulose biomass is cracked using acid to produce furfural. Using visible light and oxygen, furfural is converted into hydroxybutenolide, which is then modified using different alcohols to produce alkoxybutenolide monomers, that can be polymerized into coatings using UV light. Source: George Hermens and Paco Visser, University of Groningen
Cracked with acid, lignocellulose produces furfal, a chemical building block, to create the coatings. The team of chemists converted the furfal into a compound called hydroxybutenolide, which is similar to acrylic acid.
According to the researchers, the chemical conversion relied on light, oxygen and a catalyst, which produced zero waste and resulted in a methyl formate byproduct, which is a proven substitute for chlorofluorocarbons in other processes.
While a segment of hydroxybutenolide's structure mimics acrylate, the reactive portion of the molecule is a ring structure.
According to the researchers, "This means that it is less reactive than acrylate and our challenge was to further modify the molecule so that it would produce a useful polymer." The team accomplished this with the addition of bio-based alcohols to the hydroxybutenolide, which produced four alkoxybutenolide monomers.
With the introduction of an initiator and UV light, the four monomers could be turned into polymers and coatings.
"Coatings are made up of cross-linked polymer chains. By combining different monomers, we could get cross-linked polymers with different properties," explained the researchers.
In other words, although each of the polymers could coat glass, other combinations could be used to coat plastic. Likewise, the addition of rigid monomers created a harder coating similar to the type used on automobiles, demonstrating that the coatings were adaptable for different applications.
The research appears in the journal Science Advances.