Cement component sponges up radwaste species
S. Himmelstein | December 29, 2020
Immobilization is key to the safe, long-term storage of radioactive waste. Until recently, a nuclear waste form did not exist to effectively prevent the migration of pertechnetate, the anionic form of radionuclide technetium-99. Available methods that contain pertechnetate in cement use chemical additives that reduce the radiocontaminant to a non-mobile form, but these additives do maintain their effectiveness over time.
A constituent common to cementitious materials has been demonstrated by researchers from U.S. Pacific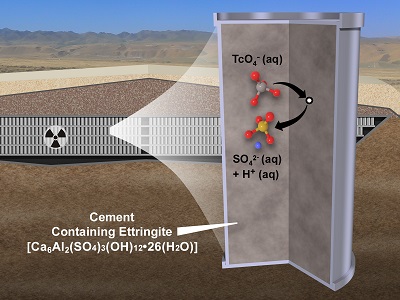 Researchers identified a process that makes it possible for ettringite to immobilize the radioactive contaminant pertechnetate. Source: Michael C. Perkins/U.S. Pacific Northwest National LaboratoryNorthwest National Laboratory and University of Sheffield, U.K., to immobilize the compound directly and over the lifetime of the waste form. Ettringite, a primary component of hydration of Portland cement concrete, contains and incorporates pertechnetate through a sulfate substitution process which might be exploited to develop cement formulations that rapidly create an optimum ettringite barrier and prevent radionuclide out-migration.
Molecular dynamics simulations, batch precipitation experiments and solid phase characterization techniques were used to confirm pertechnetate incorporation into ettringite as sulfate is displaced from the mineral's crystal structure. The findings could lead to the formulation of new ettringite-rich cements to encapsulate such waste and improve the design and construction of future radioactive waste disposal facilities.