Equinor completes drone journey from onshore to offshore platform
Marie Donlon | September 08, 2020
A Norwegian oil company has transported cargo from an onshore base to an offshore platform in the North Sea via drone.
Calling the hour-long flight a world's first, Equinor launched the drone from its onshore Mongstad base to the Troll field offshore platform in the North Sea off the coast of Norway — a journey of almost 50 miles.
The Camcopter s-100 model, manufactured by Schiebel, carried with it a 3D-printed component for a lifeboat system.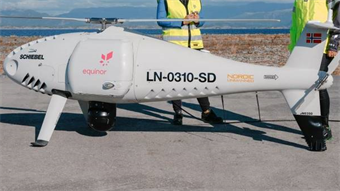 Source: Equinor
The potential benefits of drone use in oil and gas applications, according to Equinor, include improved safety, increased production and efficiency, and lower CO2 emissions versus other modes of cargo transport.
Equinor believes that drones will figure heavily into the future of oil and gas platforms, carrying out tasks such as equipment inspection, parts delivery and monitoring the platform's surroundings for environmental issues such as oil leaks.
To see the drone's journey from onshore to offshore, watch the accompanying video that appears courtesy of Equinor.