Video: Tests of 3D-printed nuclear reactor components underway
S. Himmelstein | August 30, 2020
All current nuclear reactor licenses in the U.S. are due to expire by 2055, resulting in a potentially significant loss of electricity supply. The Transformational Challenge Reactor Demonstration Program was launched by the U.S. Oak Ridge National Laboratory (ORNL) to replace these light water reactors with advanced nuclear power systems based on accelerated design and manufacturing research. In pursuit of an additively manufactured microreactor, the researchers will test the durability and performance of gas-cooled reactor core components during irradiation tests in the facility's High Flux Isotope Reactor.
Irradiation tests in the 400° C to 900° C range of a 3D-printed silicon carbide ceramic formulated to function as the reactor fuel matrix have been completed. Sample strength and swelling mechanics are now being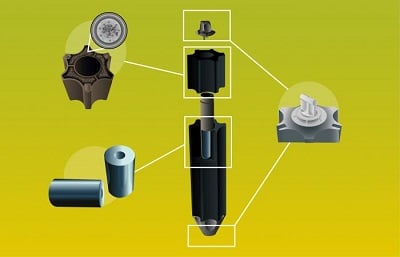 The High Flux Isotope Reactor is used to irradiate 3D-printed silicon carbide (top left), 3D-printed 316L steel (right) and yttrium hydride for use in the Transformational Challenge Reactor. Source: Jaimee Janiga/ORNLscrutinized to gauge heat transfer characteristics
A 316L-grade austenitic stainless steel is also being 3D-printed for use in the reactor core lattice structure and for the fabrication of some bristles and springs. The additively manufactured steel and samples of traditionally produced 316L steel have been subjected to neutron irradiation to assess performance in the 300° C to 600° C range and at varying doses of radiation.
Yttrium hydride will be tested as material for building the core moderator, designed to slow down neutrons during fission. Capsules of the compound, which features high hydrogen atom density and the ability to withstand high temperatures without changing its chemical composition, will be irradiated at 600° C and 900° C at three different radiation doses.
Researchers will now focus on refining the selected design and the processes that will ensure an optimal and reliable energy system. The project will also create a digital platform that will help in handing off the technology to industry for rapid adoption of additively manufactured nuclear energy technology.