Researchers develop eco-friendly patch for pothole repairs
Marie Donlon | August 18, 2020
Researchers from Marquette University in Wisconsin have developed a new asphalt patch material derived from wastewater treatment residue.
The Marquette team turned the residue leftover from wastewater treatment facilities, called grit, into an environmentally friendly ceramic mortar, called grit assisted patch (GAP) to fill potholes.
Before it is treated at wastewater processing facilities, wastewater is comprised of sewage, food scraps and other waste. Once treated, clean water is released back into the waterways while the solid leftovers, or grit, is typically landfilled because it contains pathogens and other impurities that cannot be recycled. Added to a chemically bonded phosphate ceramic (CBPC), often used to treat hazardous or radioactive waste, the grit contains microbes that inactivate the pathogens.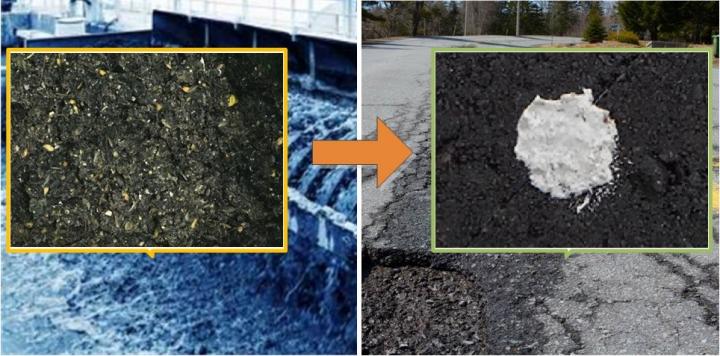 Researchers are turning grit from wastewater (left) into a ceramic mortar that can be used as pothole filler (right). Source: Zhongzhe Liu
Next, the wet grit is mixed with calcium oxide and magnesium oxide — both of which are not toxic to humans— and together they create an alkaline grit slurry that halts the release of pathogens. Finally, a weak acid, potassium dihydrogen phosphate, is added to form the grit-CBPC mortar.
During testing of the CBPC mortar, researchers determined that the new pothole material demonstrated compressive strength equal to that of traditional asphalt, and durability and bonding tests are soon to follow. Additionally, the researchers determined that the new GAP material will not leach toxins into the environment as conventional asphalt patch does, which contains bitumen derived from petroleum and polycyclic aromatic hydrocarbons (known as PAHs) that are a threat to human health.
The researchers presented their findings at the American Chemical Society (ACS) Fall 2020 Virtual Meeting & Expo on August 18, 2020.