Layering Delivers Graphene to 3D Form
Engineering360 News Desk | September 13, 2015
Researchers at Rensselaer Polytechnic Institute (RPI) have developed a layered structure for graphene that can achieve the mechanical strength of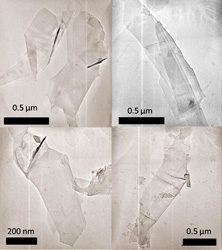 A scanning electron microscope image of the nanomaterial graphene made with a new technique from researchers at Rensselaer. Credit image: Rensselaer/Kargraphene in 3D form while retaining its thermal and electrical 2D form properties. The structures could be used for applications such as thermal management for high power electronics, structural composites, flexible and stretchable electrodes for energy storage, sensors and membranes.
In research published in the journal Science, the RPI researchers say that they developed an approach in reassembling 2D sheet structures into 3D macroscopic structures with greatly enhanced physical properties. They discovered the highly thermally conductive and mechanically strong fibers using different size graphene sheets. The fiber was made with a scalable wet spinning process. Using different sized, sheet structures can be applied to construct macroscopic structures (papers, fibers, tubes and fabrics) for other materials with 2D sheet structures.
Because un-optimized microstructures and defects in graphene fibers can affect the thermal-mechanical properties, the RPI team says that new approaches were needed to improve graphene sheet alignment, compactness and removal of defects and functional groups to enhance the physical properties.
The researchers will continue to characterize the inner fiber structure to further understand its properties. They envision exploring large-scale manufacturing of graphene fibers by wet spinning process or combining with additive manufacturing for large-scale components. This could lead to using graphene fibers in functional textiles for thermal energy storage, thermal management and structural components.
News Articles:
Graphene-Based Catalysts for Energy Storage
Graphene-Based Film 4x Better Than Copper for Cooling Electronics
Printable Graphene Moves Closer to Commercial Viability with Antenna Success