Flapping wing drone replicates bird flight
Siobhan Treacy | July 23, 2020
Researchers from Singapore, Australia, China and Taiwan create a wing-flapping drone inspired by bird wings. The new drone mimics the aerobatic maneuvers of the swift, a relative to the hummingbird.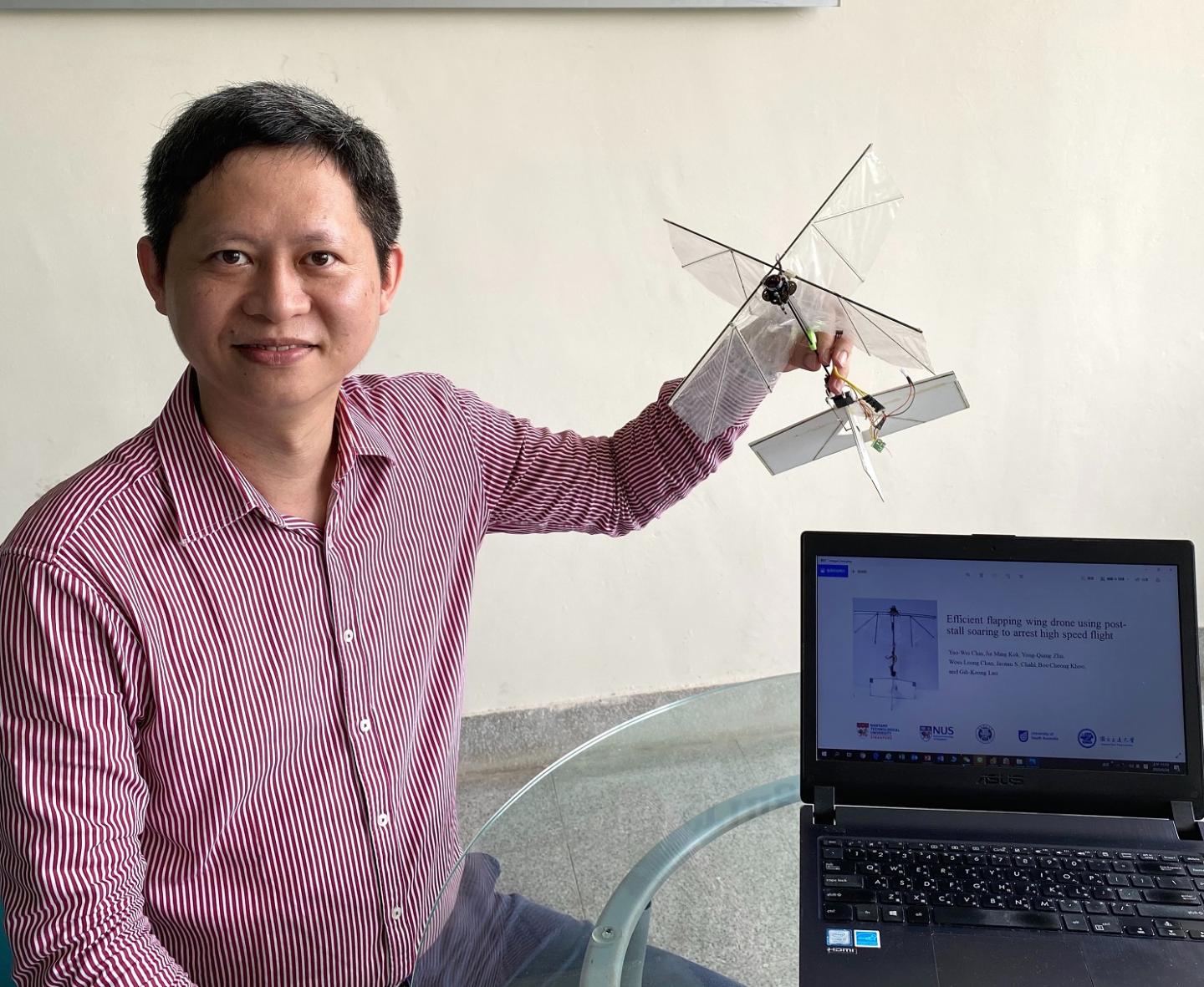 Mechanical engineer associate professor Gih-Keong Lau pictured with the drone prototype. Source: National Chiao Tung University
The ornithopter flapping-wing aircraft weighs 26 grams. It can hover, dart, glide, brake and dive like a swift. The drone is versatile, safer and quieter than quadcopter drones with stability in strong winds. It can fly near humans, glide, hover at low power, avoid collisions and stop quickly. Current ornithopters can fly forward, backward, in a circle and glide, but they can't hover or climb.
There are three roles of flapping wings: propulsion, lift and drag, replicating aggressive bird flight and tail control. The new drone is a combination of a paraglider, aeroplane and helicopter.
The team's work allows the drone to produce enough thrust to hover while carrying a camera and accompanying electronics. Thanks to its slow beating wings and lightweight design, the new drone poses less danger to the public, wildlife and vegetation in the event of a crash.
The researchers say that the new drone replicates 10% of biological flight. Birds and insects have multiple sets of muscles for speed, wing folding, twist, open feather slots and save energy. Their wing agility allows the animals to turn their bodies mid-air while flapping at different speeds and angles, something the new drone is currently unable to do.
The team says that the new drone could be useful in a variety of environments including surveillance, pollination of indoor vertical farms, chasing birds away from airports and more. Currently, there are no ornithopters used for surveillance.
A paper on this technology was published in Science Robotics.