Materials scientists eye coating for COVID-19 battle
Marie Donlon | July 16, 2020
Materials scientists from the Pacific Northwest National Laboratory (PNNL) in Washington state have developed a liquid repellant coating for surgical gloves and other personal protective equipment (PPE) to help prevent the spread of COVID-19.
The coating, called ElastiDry, is a non-toxic substance that sheds liquid. In addition to wicking away infectious liquids, the substance still works when stretched, according to its developers, making it ideal for PPE.
To determine its effectiveness on PPE, researchers added the coating to surgical gloves one to two minutes after latex gloves were removed from a vat for drying. Once removed, hydrophobic silica fibers were added to the drying latex using a high velocity sprayer and the resulting glove proved superhydrophobic in the lab.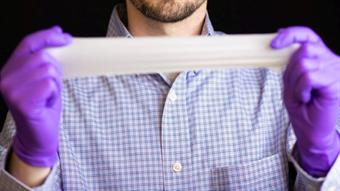 Source: PNNL
According to the PNNL team, the hydrophobic gloves could also be used in industries beyond healthcare including the service and food prep industries as well as research and chemical handling applications in the lab.
Eventually, the PNNL team envisions that the coating could be added to other products including hospital gowns, aprons, medical devices, hospital bedding, walls and surfaces, pipets, beakers and tubing, for example.
For more information on the film, watch the accompanying video that appears courtesy of PNNL.