Oxygen8 is a fresh take on HVAC
Amy J. Born | June 04, 2020
Oxygen8, a new HVAC company based in Canada, has introduced a line of electric dedicated outdoor air systems (DOAS) that address the current priorities of building operators and occupants: net-zero energy and low carbon to reduce greenhouse gas emissions; better ventilation for health, safety and comfort; and the ability to maximize usable space by eliminating bulky HVAC equipment and ductwork, according to CEO James Dean.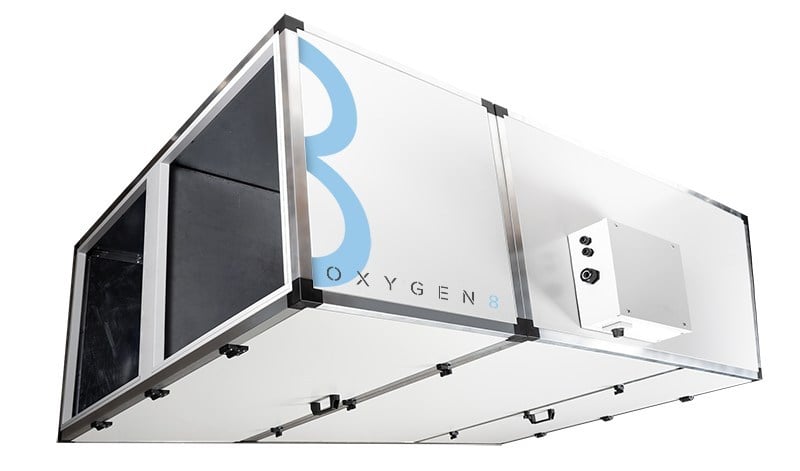 Nova Series Indoor DOAS. Source: Oxygen8Dean partnered with HVAC engineer Matthew Doherty to develop an intelligent HVAC solution that addresses those needs. Oxygen8 combines membrane-based energy recovery technology and Daikin's VRV heating and cooling systems in a low-profile design that can be mounted on the ceiling, on a wall or on the floor.
Low energy fans, fixed plate enthalpy exchangers and high-MERV filters provide 400 to 3,500 cfm of filtered outside air directly indoors in a decentralized system. This eliminates crossover and recirculation of viruses, bacteria and other contaminants among designated building zones, while maintaining healthy levels of relative humidity.
The units are compact (16 in, 20 in, 24 in or 30 in deep) and the decentralized design maximizes usable floor or roof space. ECM fans and double-wall construction provide quiet operation.
The 100% electric HVAC system with energy recovery maximizes energy efficiency while maintaining a small carbon footprint. The equipment is designed for easy installation and maintenance with pre-installed coils, electronic expansion valves and controls, easy-to-access filters and an ERV core with no moving parts. With smart technology, users can easily monitor their HVAC with real-time filter alerts, demand-controlled ventilation and remote diagnosis.