9 tips for assessing the HVAC when buying a home
Amy J. Born | February 11, 2019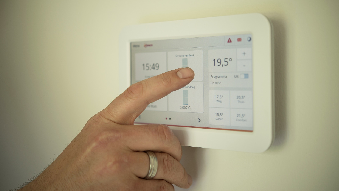 Shopping for a new home is exciting, if not more than a little overwhelming. While scrutinizing the kitchen appliances, counting the bedrooms and gauging the size of the backyard — all factors that contribute to a home's livability — remember to check out one feature that is a bit less fun but no less important: the HVAC system.
HVAC (heating, ventilation and air conditioning) is a major system that impacts both the home's comfort and operating costs. When considering an older home, knowing the type, age and maintenance history of the equipment will help a potential homeowner make informed decisions about the purchase. A brand-new home will, of course, have brand-new equipment, but learning as much as possible about it before purchasing the home is worthwhile.
Here are nine tips for evaluating a home's HVAC equipment prior to purchase.
Understand what the HVAC system includes
In addition to the furnace, air conditioner and water heater, the HVAC system might include a programmable thermostat, a humidifier or an air purifier. Depending on the type of system, it might also include ductwork.
Find out how old the system is
How a system is used and maintained affects its life expectancy, however, a typical system lasts 10 to 15 years. When buying a home with equipment that is within that range, asking for it to be replaced, even if it has been well-maintained, might make sense. The reason is that the HVAC industry is constantly improving efficiency in its products, which means a new model will be more efficient and cost-effective to operate than one that is 10 or more years old.
Find the energy rating label
Even if the equipment is newer, look for the energy efficiency rating and the estimated operating costs compared to similar equipment. The Energy Star logo indicates greater efficiency than standard equipment. Check the annual fuel utilization efficiency (AFUE) for boilers and furnaces and the seasonal energy efficiency ratio (SEER) for air conditioners. When judging these ratings, keep in mind that they apply to new equipment so consider the overall maintenance the equipment has received.
Ask about the maintenance and repair history
HVAC technicians sometimes leave dated job tickets when they perform service or maintenance, either attached to the unit or posted nearby. This type of information is a record of what has been done to the system. Check for frequent repairs, especially big-ticket items like blower motors or compressors. These could signal that the equipment may need to be replaced soon.
Check the comfort levels in different parts of the home
Cold, drafty spots or hot, stuffy spots could indicate a problem such as leaks in the ductwork or poor insulation.
Inspect the equipment
Make sure the area around the equipment is clean and clear, and the equipment itself has little or no dust and dirt. Look for rust, water or condensation on or around the equipment. Note any noises that may be cause for concern, such as banging or scraping sounds. Ask the home inspector to check anything that seems unusual.
Schedule a professional inspection and preventive maintenance
For added peace of mind, hire an HVAC professional to do an inspection before closing on the house. At the very least, have a certified HVAC technician come out and do a thorough cleaning and maintenance inspection before moving in. An HVAC technician will explain the system, recommend ways to keep it running as efficiently as possible, provide a good estimate of how much life is left in the system and answer any additional questions.
Understand the warranty
Ask about the warranty and any maintenance agreements. Find out if they transfer to the new owners.
Consider other factors that could affect the HVAC's performance
An efficient well-maintained system may still not work properly due to other factors. Make sure the system is properly installed, that the ductwork is sufficient and that the equipment is the right size for the home. Check for adequate ventilation. Look for air leaks around doors and windows, and determine if there is enough insulation. Notice whether the home's orientation maximizes passive solar benefits. Find out if there is a programmable thermostat and learn how to use it.
Knowing as much as possible about a home's major systems will go a long way toward avoiding unpleasant surprises down the road. Keep in mind an older system doesn't necessarily need to be replaced. A well-maintained gas furnace or boiler can last between 15 and 20 years, while a heat pump or central air conditioner can last 10 to 15 years.