Enerpac introduces new hydraulic stressing pump for rail applications
Engineering360 News Desk | May 29, 2020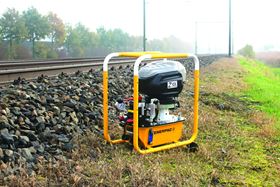 Source: EnerpacIndustrial tool and service provider Enerpac has introduced a new cordless hydraulic stressing pump for rail tensor and stressing applications.
The hydraulic stressing pump, called the ZC-3404, is driven by a lithium-ion battery along with a standalone power pack for use in aluminothermic track welding processes.
The ZC-3404, which is Network Rail approved, is a three-stage pump that is compatible with other rail tensors applying similar pressures. The pump does not emit exhaust gases as with diesel-powered pumps, thereby reducing its environmental impact. Additionally, the pump improves working conditions underground, for instance in tunnels. The pump is roughly 50% lighter than similar pumps and features improved ergonomics for comfortable handling along with noise levels below 80 dB.
The safety features of the ZC-3404 include a pressure-hold function for operator safety and a safety key to enable users to safely leave the pump unattended. Likewise, the pump's pressure gauge is mounted at an angle, which enables the operator to safely control the pump from its side instead of facing the front of the pump.
At a weight of 34.8 kg minus the battery, the stressing pump uses an 82 V li-ion battery.
For more information, visit the Enerpac website.