Watch: Wearable sensor wirelessly monitors early COVID-19 symptoms
S. Himmelstein | May 05, 2020
A wearable sensor has been developed by researchers from Northwestern University and Shirley Ryan AbilityLab to improve the speed and accuracy of COVID-19 diagnoses. The flexible electronic device continuously monitors coughing, body temperature and respiration rate, generating detailed data that can be processed with artificial intelligence techniques.
The sensor adheres to the skin of the user's throat, tracking health status and signaling the onset of dangerous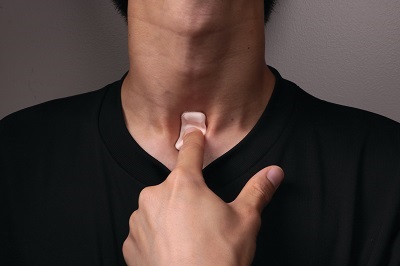 The sensor continuously measures and interprets coughing and respiratory activity in ways that are impossible with traditional monitoring systems. Source: Northwestern Universitydevelopments. The postage stamp-sized wearable is being tested with COVID-19 patients and their healthcare workers, both in the clinic and at home. Coughing intensity and patterns, chest wall movements, such as those associated with labored or irregular breathing, and respiratory sounds, heart rate and body temperature are monitored as the user conducts normal daily activities. Data are wirelessly transmitted to a HIPAA-protected cloud, where automated algorithms produce graphical summaries tailored to facilitate rapid, remote monitoring. Custom signal processing and machine-learning algorithms are being advanced to train the device how to recognize coughs in the data.
The device offers the potential to identify symptoms and to pick up trends before medical personnel detect them and provides an opportunity to engage in appropriate precautionary measures and to seek further testing as quickly as possible. Future developments are expected to include the capability to measure blood oxygenation levels, which is an important component of lung health.
The research team is now producing dozens of devices per week and estimates that production can be ramped up to hundreds of devices per week without the need for external vendors and complex supply chains.