Video: Thermal battery design advances at Argonne
S. Himmelstein | April 13, 2020
The waste heat generated during most industrial and combustion processes can be recovered with a new thermal battery technology devised at U.S. Argonne National Laboratory (ANL). The high-efficiency thermal energy storage system (TESS) rapidly stores heat and releases it on demand.
Initially developed for concentrating solar power plants, TESS can also be deployed to harness heat produced in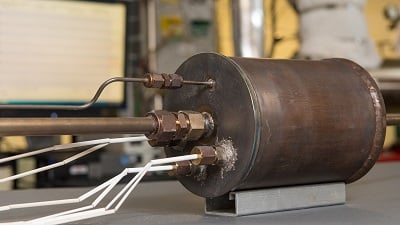 The thermal storage system can be scaled to meet the needs of virtually any commercial application. Source: ANL desalination systems, cogeneration facilities or heavy-duty vehicles. The latent heat storage device is tunable to operate over a range of temperatures by use of different phase change materials in a modular design intended to increase the energy efficiency and cost-effectiveness of many industrial processes.
Phase-change materials are combined within porous, highly thermally conductive foam to provide a large storage density and sealed with inert gas inside a storage module. The captured heat can be used to produce steam for turbine applications or transferred to air for space heating/cooling applications. The technology, which has been demonstrated to operate in temperatures over 700° C, can also convert waste heat to mechanical energy in heavy-duty trucks or to interior heating for electric vehicles.
Efforts are underway to integrate TESS with combined heat and power systems from Capstone Turbine Corporation.