Video: Nuclear power plant plans are now open source
S. Himmelstein | March 04, 2020
Nuclear power is being promoted by the Energy Impact Center as a tool for combating climate change. The nonprofit research institute founded in 2017 seeks to expand this power generation option, which releases no greenhouse emissions, by releasing open-source designs for a small-scale 100 MW pressurized water reactor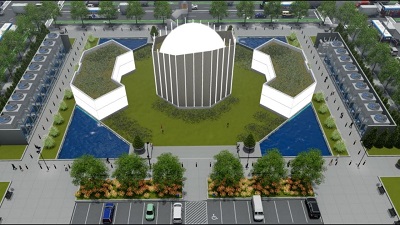 OPEN100 is the world's first open-source blueprint for nuclear power plant deployment. Source: Energy Impact Centerthat could be built in two years for just $300 million.
Rising costs and delays associated with overly complicated and proprietary designs have severely limited the deployment of nuclear power worldwide. The OPEN100 project offers open-source information intended to streamline the power plant design and licensing process by simplifying design and reducing construction costs and timelines.
Downloadable 3D CAD models are available for the power station buildings, site layout, large components and some subassemblies. The initiative will evolve to include alternate versions for individual components as well as sketches and piping and instrumentation diagrams.
Engineering models and schematics can be accessed for the reactor vessel, turbine generator, steam turbine, condenser, fuel assembly, coolant pumps and other components. The open-source format will allow startups, engineering firms, global utilities and capital markets to align around a common framework.