New software auto-detects flare smoke in refineries
Engineering360 News Desk | February 27, 2020
On February 25, software solutions provider CyboSoft released CyboFlare, a patent-pending flare smoke auto-detection software for oil refineries and petrochemical plants.
The U.S. Environmental Protection Agency (in CFR-60.18) requires industrial flares to operate with no visible emissions, except for periods not to exceed a total of five minutes during any two consecutive hours. Most U.S. oil refineries and petrochemical plants have installed video cameras to monitor their flares around the clock, and save videos in a computer system ready for EPA's audits.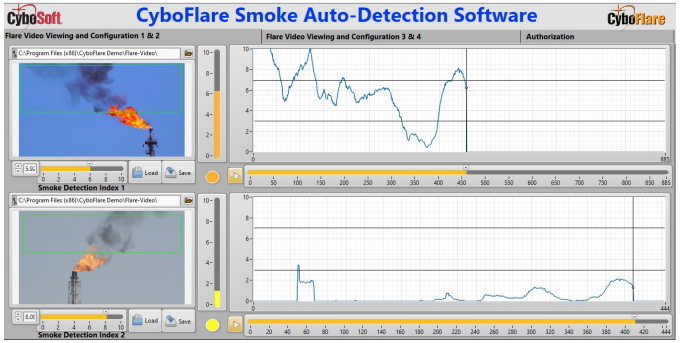 Source: CyboSoft
Operators are trained to watch live flare videos, and are responsible for recognizing smoke events and taking immediate action. Operators usually respond by opening a steam or air valve through a control override function to assist flare combustion, so that the flare can escape the smoking condition quickly.
CyboFlare's online mode can connect to one or more video cameras to monitor live flare videos in real time. The smoke conditions are reported using Smoke Level, a value in the range of 0 to 10, where 0 means no smoke and 10 indicates that the flare has the highest smoking condition.
Smoke Level can be sent in real-time to the plant DCS to trigger an alarm, and control override actions can be taken automatically by the DCS to take the flare out of smoke quickly. CyboFlare also has a historical mode where the saved smoke level data can be reviewed for smoke condition tracking, reporting and EPA auditing.