Open-source software analyzes biorefinery and biofuel economics
S. Himmelstein | February 27, 2020
An open-source simulation software package in Python provides engineers and biofuel producers a flexible tool to quickly analyze the economics of producing different biofuels and bioproducts.
Researchers can use the Biorefinery Simulation and Techno-Economic Analysis Modules (BioSTEAM) to compare and refine strategies for converting biomass. The biorefinery simulation framework allows for design, simulation and techno-economic analysis that incorporates uncertainties as a key feature. Flowsheets of all biorefinery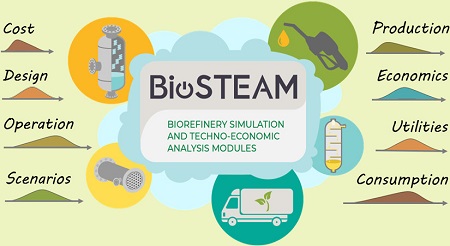 BioSTEAM facilitates design, simulation and techno-economic analysis of biorefineries under uncertainty Source: ACS Sustainable Chem. Eng.streams, unit operations and recycle systems can be instantaneously generated.
Developers at the University of Illinois researchers used BioSTEAM to model co-production of biodiesel and ethanol from lipid-cane, and the production of second-generation ethanol from corn stover. The analysis considered 94 parameters for the lipid-cane biorefinery simulation and 228 for corn stover, including financial assumptions, feedstock flow rates, cost scale-up coefficients and electricity requirements of every unit operation. The exercise demonstrated that key drivers of fuel costs is biorefinery size and how much bio-feedstock is processed. The larger the facility, the lower the per-gallon cost.
BioSTEAM was also shown to evaluate 31,000 different biorefinery designs, across a continuum of feedstock compositions, in less than 50 minutes. The results matched benchmark models and, through sensitivity analysis, highlighted bottlenecks for research and development.
Near-term refinements to BioSTEAM will include a life cycle assessment add-on to quantify environmental impacts of biorefineries, and a website with a graphical user interface where researchers can plug new parameters for a biorefinery simulation into existing configurations and download results within minutes.
A research paper is published in ACS Sustainable Chemistry & Engineering.