New hydraulic hose from Gates
Engineering360 News Desk | February 24, 2020
Fluid power and power transmission solutions manufacturer Gates has announced the availability of its new hydraulic hose.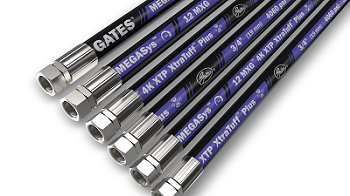 Source: GatesDesigned as a drop-in replacement for conventional spiral hoses, the MegaSys MXG 4K hydraulic hose from Gates is constructed with the company's proprietary wire-braid technology, making the product flexible and light weight. Likewise, the hose is qualified to one million impulse cycles.
Meanwhile, the Gates XtraTuff Plus cover ensures improved abrasion and ozone resistance, while offering improved durability when powering demanding fluid power applications. The MXG 4K hose is roughly 40% more flexible than conventional spiral hoses, which reduces the amount of force necessary to route, thereby enabling faster and more ergonomic installation. Similarly, the hose is 30% lighter and 8% more compact, thereby improving equipment performance, installation, ergonomics and material handling. This also ensures an easier fit, which enables upsizing hose selection for increased power.
For more information on the new hydraulic hose, visit Gates.