New cobots are easier to install and program
Shawn Martin | February 04, 2020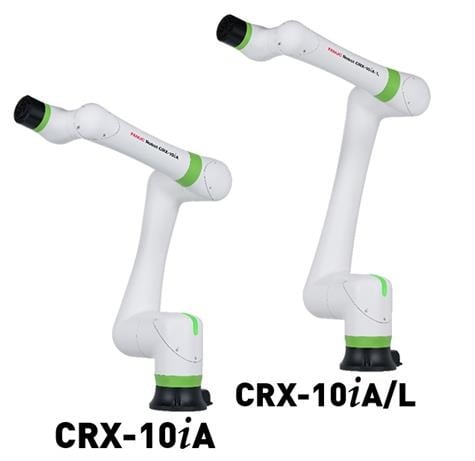 Source: FANUC FA AmericaFANUC's CRX-10iA and CRX-10iA/L (long arm version) collaborative robots feature enhanced ergonomics with a lightweight and compact arm that accommodates most floorspace configurations. Installation is completed without a crane or other lifting equipment and the unit is matched to FANUC's R-30iB Mini Plus Controller to further capitalize on space savings.
Programming is facilitated by new lead-through programming features and a new teach pendant interface. The tablet interface provides icons for touch controls allowing operators to program the robot without any programming knowledge. It is also supported by FANUC's existing software programs including iRVision and iRPickTool.
Designed for material handling, mechanical assembling and arc welding application, the new CRX cobots are significantly lighter than FANUC's CR series. Sensitive contact detection allows the units to operate alongside field workers without posing a workplace hazard. The two models have a payload capacity of 10kg and a reach of either 1249mm or 1418mm. The modern design provides the same uncompromising quality standards that FANUC is renowned for.