Carnegie Mellon researchers develop haptic helmet for firefighters
Marie Donlon | January 31, 2020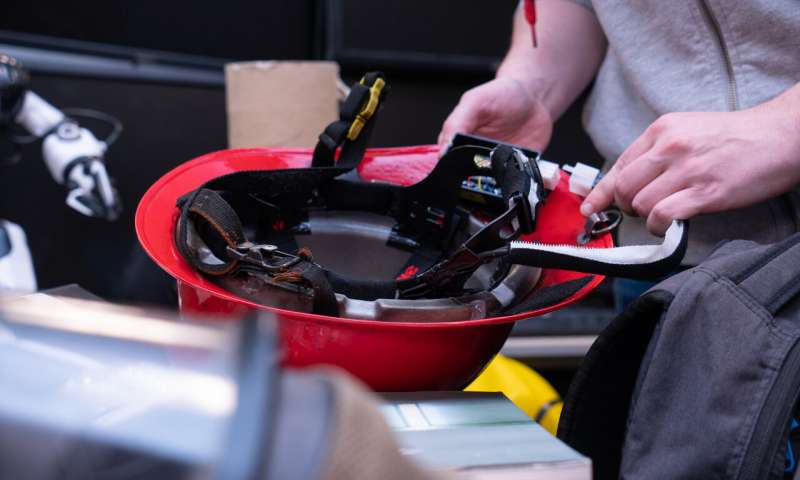 Firefighters do not need extra time to put on the helmet because the haptics are embedded inside the prototype. Source: Carnegie Mellon EngineeringA research team from Carnegie Mellon University has developed a helmet for firefighters that communicates haptic instructions during a fire or other disaster.
The team from Carnegie Mellon developed the so-called "haptic helmet" so that firefighters battling a fire or other disaster can maintain communications, which can be hindered by conditions such as excess smoke, putting firefighters' lives in even greater danger.
To develop the haptic interface prototype, researchers modified an existing firefighter helmet and outfitted it with haptic actuators, which enable users to interact with a computer via body movements. The actuators work in conjunction with a control box and radio module to communicate instructions in the form of haptic signals.
For instance, the haptic helmet might buzz or vibrate at the back of the wearer's head to instruct the firefighter to go back or the helmet might emit a buzz to the left side of the wearer's head to instruct the firefighter to turn left. Such instructions are communicated via an RF remote or a virtual reality (VR) simulator.
During development, the helmet was tested in VR environments and then live tested at a firefighter training facility in Colorado where firefighters wore the prototype helmet to navigate through a dark and smoke-filled building. The firefighters were guided through the course by the haptic signals, which were sent from a Carnegie Mellon researcher following behind the firefighter through the course and using a thermal imaging camera to see through the smoke-filled building. At the course's completion, firefighters reported that the helmet enabled them to successfully navigate the course.
While still in development, the Carnegie Mellon University team will continue to improve upon the helmet technology, using feedback from a group of participating Pittsburgh firefighters working alongside the researchers.
To see the helmet in action, watch the accompanying video that appears courtesy of Carnegie Mellon University.