Coalition develops microrobotic system for regenerating knee cartilage in rabbits
Marie Donlon | January 30, 2020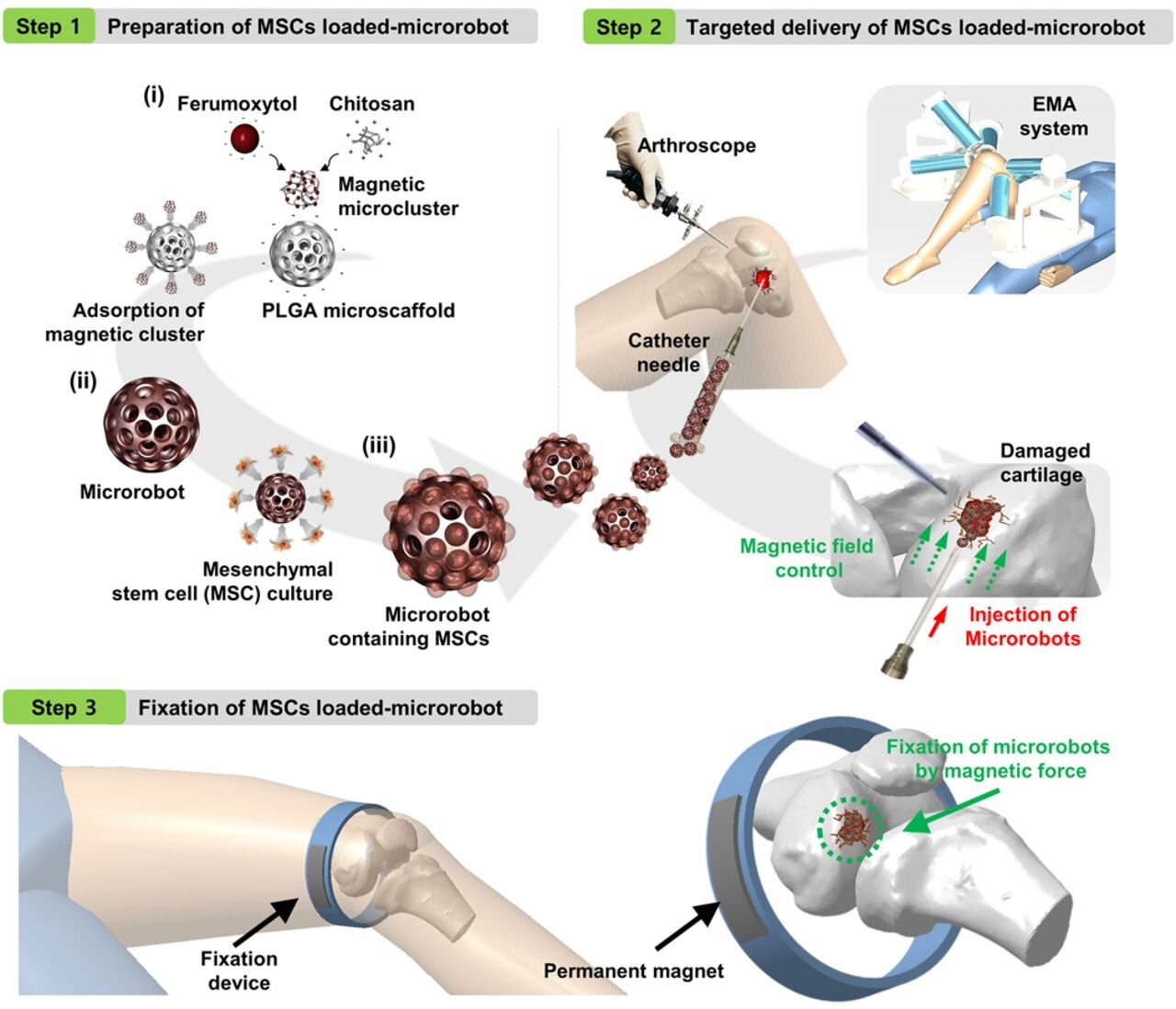 Concept overview of knee cartilage regeneration procedures using magnetic microrobot-mediated MSC delivery system. The magnetic microrobot containing MSCs was prepared through a sequential process by adsorption of magnetic microclusters on the PLGA microscaffold and MSCs loading (step 1). The prepared MSC-loaded microrobots were delivered to cartilage defect using EMA system (step 2). After the targeted delivery procedure, the microrobots are immobilized to the defect using a permanent magnet (step 3).Source: Science Robotics (2020). DOI: 10.1126/scirobotics.aay6626A coalition of researchers from institutions in both China and Korea have devised a microrobotic system for regenerating knee cartilage in rabbits.
To regrow knee cartilage in rabbits with demonstrated cartilage damage, the researchers developed tiny hollow balls composed of the polymer poly(lactic-co-glycolic acid), or PLGA. The balls, which also contain holes, were then coated in an iron (ferumoxytol) and chitosan (sugar) mixture and each of the balls were then injected with mesenchymal stem cells, which are commonly found in bone marrow, and, according to previous research, encourage the growth of cartilage cells.
Once prepared, the balls were inserted in the knees of rabbits in the lab along with magnets for securing the balls in place. Securing the balls in this manner encourages the cells to bind to nearby tissue.
After three weeks, researchers found that the rabbits injected with the cell-enhanced balls had measurable improvement in cartilage growth. As such, the researchers intend to test the microrobotic system on animals with knees that are similar to human knees in the hopes of one day injecting them into humans experiencing cartilage depletion, which is a common ailment among aging populations.
The research appears in the journal Science Robotics.