New flat-top chain conveyor system from Mk North America
Engineering360 News Desk | January 28, 2020
Introduced at Motek 2019 in Stuttgart, Germany, Mk North America Inc.'s VersaFlex flat-top chain conveyor features standardized modules and components for simple and cost-effective material handling operations.
The fully modular and standardized conveyor system is ideal for complex track designs within a three dimensional space. The different chain widths allow a fast configuration and a problem-free design of the system, alternatively also with workpiece carriers.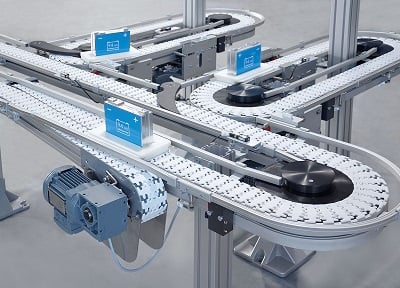 Source: Mk North AmericaVersaflex is a conveyor system that grows with a system's requirements. It is also compatible with currently available systems. Most notable for the transport of primary and secondary-packaged products from, among others, the food, pharmaceutical, chemical or consumer goods industry, but also for the transport of workpiece carriers in assembly lines. This is especially useful in the automotive industry and for the linking of machines in the manufacturing industry.
The single-track design and curve radii starting at 150 mm allow complex routes to be mapped in confined spaces. The chain runs on wear strips to ensure low wear and can be operated at speeds of up to 50 m/min and system lengths up to 40 m with just one drive.
Whether as a turnkey solution or in an assembly kit, the system is extremely flexible and efficient with chain widths of 44 mm to 295 mm and a large selection of accessories. Mk offers drives, bends and cleats as well as side rails and stands to suit the task and the goods to be conveyed. Various function modules are also available, such as stoppers for accumulating, buffering or separating products as well as switches for distributing the products to several conveying paths.
Versaflex features include:
Cost-effective, simplified complex track designs
Simple and fast configuration and commissioning
Suitable for all industries and compatible with existing systems
Modular system of standardized components
Turnkey or as assembly kit
User friendly and low maintenance
Can be quickly adapted to new production and environmental conditions
Saves energy and space
Accessories can be attached in the slots on the conveyor frame profile