Modeling corneal tissue repair with microfluidics
S. Himmelstein | January 13, 2020
University of Texas researchers tapped microfluidics technology to examine the role of threadlike fibrils in guiding corneal keratocytes to areas of the eye requiring repair and healing. These keratocytes and fibrils are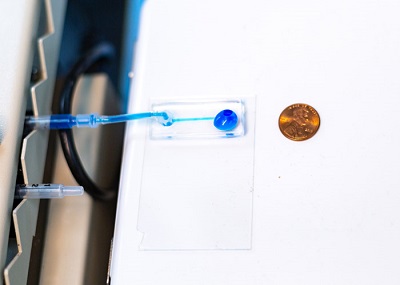 Inside clear plastic devices are channels about the width of a strand of human hair. Source: University of Texas at Dallasprogrammed to assist if the eye is injured, but for reasons that not yet understood, the natural healing process can sometimes fail, resulting in scarring or blindness.
Microfluidics were used to take a deeper dive into corneal cell response and repair behavior. Collagen injected into the channels of a plastic microfluidic device polymerizes into a thread about the same diameter as a human hair. The fibrils are deposited onto glass coverslips, resulting in aligned collagen fibrils, similar to those present in corneal tissue.
The researchers observed rabbit keratocyte interactions with these collagen fibril structures. Normal keratocytes placed onto high density aligned collagen fibrils tended to stretch out along with the fibrils. Cells cultured on low-density collagen fibrils showed no preferential orientation.
Data generated by this model of corneal tissue could be used to develop therapies for reducing corneal scarring or to synthesize tissue replacements.