Fiber material promises to thwart biological and chemical threats
Marie Donlon | October 19, 2021
Building upon a previously developed metal organic framework (MOF) composite nanomaterial that can deactivate toxic nerve agents, researchers from Northwestern University have developed fabric that can now deactivate both biological and chemical threats.
The MOF material originally capable of deactivating toxic nerve agents — such as those used in chemical warfare — was modified by the Northwestern team to include antiviral and antimicrobial agents capable of deactivating biological threats like COVID-19.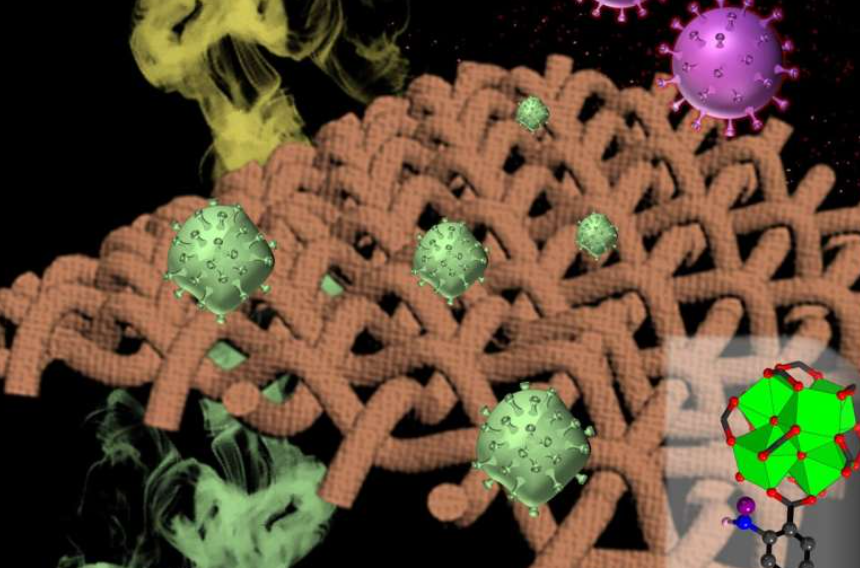 Programmable crystalline sponge-textile composite for elimination of biological and chemical threats. Source: Northwestern University
The sponge-like MOF material features several holes that capture gases and vapors. Within the MOF cavities are catalysts that can deactivate viruses, bacteria and toxic chemicals.
According to the researchers, the nanomaterial could be easily coated onto face masks and other protective clothing.
The research paper, "Immobilized Regenerable Active Chlorine within a Zirconium-Based MOF Textile Composite to Eliminate Biological and Chemical Threats," appears in the Journal of the American Chemical Society (JACS).