Microplastic pollution is raining down in London
S. Himmelstein | January 02, 2020
Microplastics are commonly recognized as ubiquitous contaminants in marine ecosystems but are also present in atmospheric deposition affecting terrestrial environments. Researchers from King's College London, U.K., sought to document their contribution to urban atmospheric pollutant loads by monitoring microplastic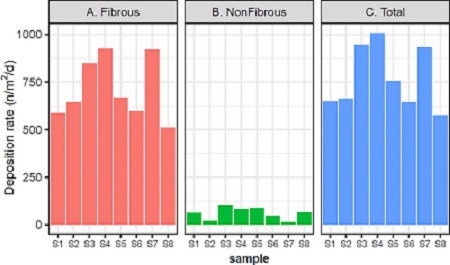 Time-series of deposition rates (n/m2/d) for (A) fibrous, (B) non-fibrous and (C) total microplastics. Source: S.L. Wright et al.transport and deposition in central London.
Atmospheric deposition samples collected by rain gauges 50 m above ground level at a riverside urban site during January to February 2018 were analyzed by Fourier transform infrared (FTIR) spectroscopy. Microplastics were detected in every sample, with deposition rates determined to be in the 575 to 1,008 particles/m2/day range. These rates exceed those measured for atmospheric deposition of microplastics at study sites in China and in Paris, and are almost 20 times higher than those observed in the French Pyrenees.
Fibrous microplastics associated with textiles comprised 92% of the samples. Non-fibrous species were derived from plastic bags, packaging and other polystyrene-based products. These particles can be transported up to 95 km, but analysis of local meteorological conditions suggests local sources play a major role in microplastics deposition in London. The research published in Environment International points to urban areas as a contributor of airborne microplastics to the environment and urges identification of emission sources as a focal point for future research.