Team turning quadcopters into workplace drones
Marie Donlon | December 30, 2019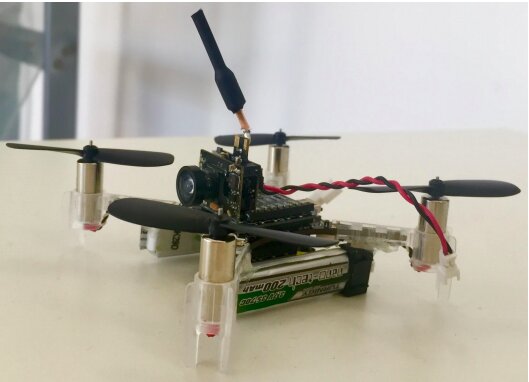 A Crazyflie drone used by the team. Source: Fuhrman et al.A team of researchers from Germany's Karlsruhe Institute of Technology are turning autonomous quadcopter drones into interactive workplace robots.
The Karlsruhe team modified a Crazyflie 2.0 drone from the drone company Bitcraze into a drone that can carry out simple tasks such as running errands or delivering objects to specified destinations to assist employees in both office and laboratory settings.
According to the team, the quadcopter drones can follow verbal requests and carry out those requests without manual intervention and without colliding with potential obstacles, static or otherwise. To accomplish this, the modified Crazyflie 2.0 is outfitted with automatic speech recognition (ARS) that translates the user's verbal instructions, a dialog system that processes those instructions and locates a destination within the office or laboratory setting, and a flight controller that maps the drone's course to its destination, while avoiding obstacles and collisions along the way.
During testing, the researchers determined that the modified drone completed tasks with an almost 80% success rate. However, the researchers also noted that improvements need to be made to the system, specifically to the ARS system, which demonstrated difficulty understanding verbal instructions. The team also intends to improve the system's depth perception under changing lighting conditions as well as the system's battery life.
To see the Crazyflie 2.0 quadcopter operate, watch the accompanying video that appears courtesy of Bitcraze.
The findings appear in the journal arXiv.