MakerBot launches materials development program for Method 3D printers
Shawn Martin | December 06, 2019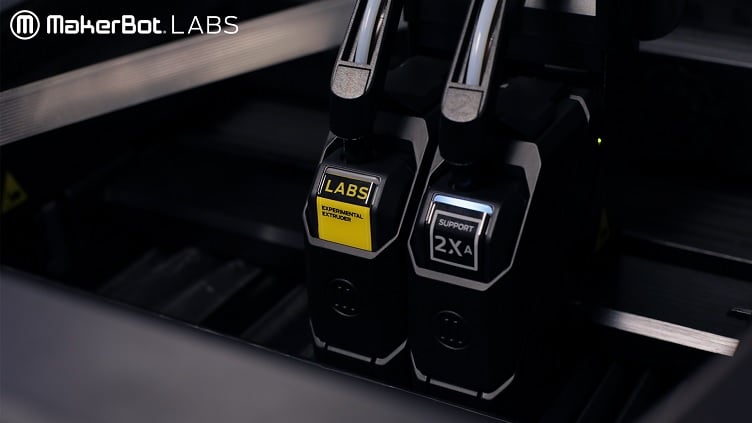 Source: MakerBot Industries, LLC
MakerBot is collaborating with Jabil, Kimya, Mitsubishi Chemical and Polymaker to qualify a wide range of engineering-grade materials for use with MakerBot's LABS experimental extruder. The current range of materials targeted includes Jabil's PETg ESD, Kimya ABS Carbon, Kimya ABS ESD, Kimya PETG Carbon, Mitsubishi Chemical Durabio, Polymaker PolyMax PC and Polymaker PolyMax PC-FR.
Jabil's electrostatic dissipative product addresses sensitive electronic assemblies.
Kimya's ABS composite provides for improved stiffness and compressive strength as well as lower weight than comparable ABS materials and the ESD option protects against static discharge and is commonly used for printing manufacturing fixtures and electronics enclosures. Their advanced PETG material is reinforced with carbon fibers to provide for increased tensile strength and stiffness.
Mitsubishi Chemical's Durabio is a bio-based, BPA-free resin commonly used for automotive, housing, interior and exterior décor. With the transparency of acrylics and chemical and scratch-resistance of polycarbonate, the plant-derived polymer is a suitable substitute for glass components.
Polymaker's polycarbonate filament exhibits excellent strength, toughness, heat resistance and printability. A UL94V-0 compliant flame retardant filament is also available, and is widely used in the automotive, railway and aerospace industries.
The Method workstation was developed as an entry-level desktop printer with capabilities that bridge the gap between desktop and industrial printers. The circulating heated chamber, dual performance extruders, dry-sealed material bays and ability to print industrial SR-30 soluble supports are some of the key features that set it apart from other desktop printers on the market. Through the use of modular hardware and advanced print settings filament suppliers can qualify their 3D printing materials for use with MakerBot's Method platform.
Interested parties can contact MakerBot at labs@makerbot.com.