A ruggedized screw feeder for dry bulk materials
Shawn Martin | November 22, 2019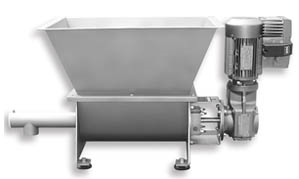 Source: Metalfab MHS, LLC Metalfab's rugged MetaTech screw feeder is a compact, direct-drive bulk material feeder designed to handle powders, pellets, flakes and agglomerates. Remarked for metering accuracy and dependability, the unit features only two moving parts, the driveshaft and a unique agitator/conditioner screw and metering screw assembly.
The larger agitator/conditioner screw has a greater throughput capacity than the metering screw and a wire configuration. Material flows through and around the larger screws, allowing entrained gases to escape upwards while a uniform dense flow of material is fed to the metering screw. The units are available with ½ in to 6 in feed screws and permit feed rates from 0.05 to 550 cb ft per hour.
The inline driveshaft features o-ring seals and a rear Teflon packing gland. This helps ensure dust-free operation of the AC drive. The solids feeder is ruggedly built for continuous, dependable operation and is acclaimed to maintain a metering accuracy of +/-1% to +/-1.5% of its rated capacity.