Is CAD coming to your browser?
Ken Thayer | November 08, 2019
The rise of cloud computing includes the rapidly growing software-as-a-service (SaaS) market. SaaS is a method of delivering licensed software applications that are centrally hosted on the internet. Other names for SaaS are hosted software, web-based software and on-demand software.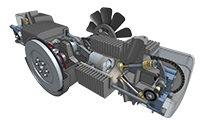 3D CAD model. Source: PTC/OnshapeMost users are familiar with or have heard of popular applications such as Salesforce, Microsoft Office 365, Cisco WebEx, Citrix GoToMeeting, Adobe Creative Cloud, Amazon Web Services SaaS and Atlassian Jira, among others. Applications for SaaS are an ever-expanding list that includes customer resource management (CRM), office productivity, collaboration, human resources management, payroll administration and issue tracking software.
Internet speed and continuously connected computers are expanding the possible applications viable for SaaS to include computer-aided design (CAD) software. Advancements in data security protection have also contributed to the growth in SaaS.
The demanding requirements for CAD software were not something most SaaS providers were ready to handle until a few years ago. Autodesk, a major CAD industry leader, was one of the first software developers to offer CAD SaaS. This allowed everyday users to purchase a subscription to the web-based software without having to go through an Autodesk reseller.
CAD SaaS in browser and mobile device. Source: PTC/Onshape
PTC, manufacturer of Creo CAD software and another major player in computer-aided design recently announced the acquisition of SaaS CAD company Onshape for $470 million. Onshape was founded by Jon Hirschtick, who knows a thing or two about CAD. Hirschtick also founded CAD giant Solidworks in 1997 before selling it to Dassault Systemes for $310 million. This acquisition will create a SaaS platform that combines CAD, data management and collaboration. PTC sees the acquisition as an additional option for users and will continue to maintain their Creo and Windchill product lifecycle management (PLM) platforms.
CAD SaaS offers many advantages over traditional, locally installed software. There is no software installed and the only requirement is a browser or mobile device and internet connection. Additionally, there is no infrastructure to maintain or software updates to install. The ease of purchasing a subscription online with a credit card also makes SaaS CAD more accessible to a larger audience than going through a reseller. This opens the market to personal users, small businesses, entrepreneurs and makers at a more affordable price.
CAD is still a relatively new introduction to the SaaS model, but with leaders like Autodesk and PTC entering into the market, you can be sure that a CAD option may be coming to your browser soon.