Watch: 3D printing shores up coral reefs
S. Himmelstein | October 23, 2019
Coral reef ecosystems are under siege from the impacts of pollution, warming temperatures and natural disasters. The potential contributions of 3D printing technology to the conservation of fragile reef structures and the biota dependent on them were explored by University of Delaware researchers.
Coral models were 3D printed based on 50 iPhone images taken from all angles. Four different artificial coral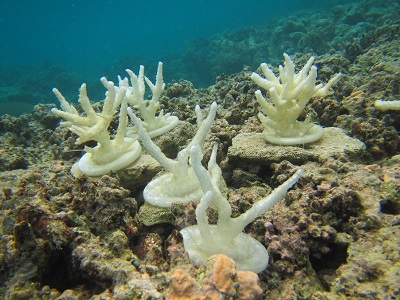 3D-printed coral models of differing complexity were secured to an area of a reef with low-complexity, then monitored to determine which habitat the fish preferred. Source: University of Delawaremodels were fabricated from low-cost filaments, including polyester and biodegradable materials made from cornstarch, or cornstarch combined with stainless steel powder. The artificial coral structures and real coral were placed in an aquarium to study the behavioral responses of blue-green damselfish, a common coral-dweller found in the Indian and Pacific Oceans, and mustard hill coral larvae.
The fish showed no preference between native and 3D-printed coral materials and activity levels remained unchanged in either coral habitat. The mustard hill coral larvae were observed to settle at higher rates on 3D-printed surfaces compared to having no settlement surface at all, such as when a reef is flattened in a storm.
The reef-building materials tested did not adversely impact feeding or defensive behaviors of the fish, and were demonstrated to afford appropriate shelter habitat. Field data from Fiji, where 3D-printed coral and tiles made from biodegradable cornstarch filaments were installed, are now being analyzed.
A research paper has been published in PLOS One.