Watch: Nail gun drone installs roofing shingles
Marie Donlon | September 23, 2019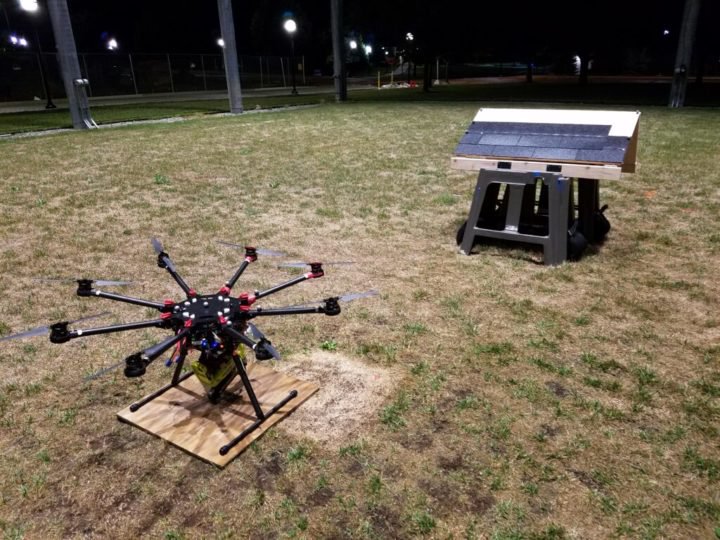 The roofing octocopter, equipped with a nail gun, is parked near a mock roof. Source: Matthew Romano, Michigan RoboticsResearchers at the University of Michigan developed a drone that installs asphalt shingles on a roof with a nail gun.
The autonomous octocopter is reportedly capable of positioning a nail gun above a targeted nailing point, triggering the gun to insert the nail, and then moving on to the next point — all without human operators.
The drone was outfitted with a nail gun and a series of markers and stationary cameras that enable it to locate itself and identify where the nails should go. Software was developed by the team to fire the nail gun. A challenge in developing the software was determining how much pressure is needed to depress the nail gun muzzle, a safety feature common on nail guns that prevents accidental discharge. At each nail site, the drone needs to apply pressure on the muzzle, often at an angled surface, but maintain flight stability.
There are key limitations to the prototype, such as the drone works slower than human roofers, working at the speed of a novice roofer, according to researchers. Additionally, the drone is currently battery powered, limiting flight time to 10 minutes due to the combined heft of the hardware and nail gun. Researchers explained that if powered by a tether, the drone could potentially operate indefinitely.
Automated roof installation could remove humans from dull, dirty, high-risk jobs like roofing, and potentially expand to tasks like bridge, wind turbine and cell tower maintenance.
A paper titled, Nailed It: Autonomous Roofing with a Nailgun-Equipped Octocopter, was submitted to the International Conference on Robotics and Automation and is posted to the arXiv preprint server.