2018 saw an increase in CO2 emissions from aviation
S. Himmelstein | September 20, 2019
A global aviation carbon dioxide inventory assembled for the 2018 calendar year shows that aviation emissions are increasing 70% faster than UN projections and could triple by 2050. An International Council on Clean Transportation emissions analysis is based on an airline operations database that includes nearly 39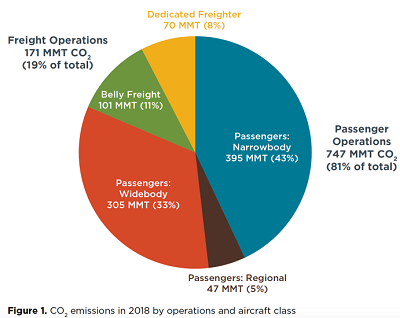 Source: International Council on Clean Transportationmillion flights for 2018, of which 38 million were passenger aircraft flights.
CO2 emissions from all commercial aviation operations in 2018 totaled 918 million metric tons and accounted for 2.4% of global CO2 emissions from fossil fuel use. Passenger transport accounted for 747 million metric tons, or 81% of the total. The largest single regional market for aviation was intra-Asia, accounting for one-quarter of total emissions, followed by the intra-North America (18%) and intra-Europe (14%) regions.
The least-efficient route groups were flights within the Middle East and within Africa, which emitted 30% more CO2 to transport one passenger one kilometer than the worldwide average.
About 24% of global passenger transport-related CO2 was emitted by flights departing airports in the U.S. and its territories.
About 43% of aviation CO2 was linked to passenger travel in narrow body aircraft, followed by widebody jets (33%) and regional aircraft (5%). The remaining aviation emissions were driven by freight carriage and divided between belly freight carriage on passenger jets (11%) and dedicated freighter operations (8%).