Westinghouse and EDF aim to jointly develop an SMR
David Wagman | September 18, 2019
A French consortium, which includes utility EDF, said that it has started talks with Westinghouse Electric Co. to develop a small, modular reactor (SMR) based on French pressurized water reactor technology and a Westinghouse SMR design.
The consortium, which includes CEA, EDF, Naval Group and TechnicAtome, unveiled their jointly developed SMR project, known as Nuward, at a nuclear energy conference in Vienna in mid-September. The reactors would be factory-built modules in the 300 to 400 megawatt range that would be complete by the late 2020s.
Westinghouse said that under terms of the agreement, the venture partners will pursue regulatory and design standardization. A detailed project roadmap is expected in early 2020, the company said.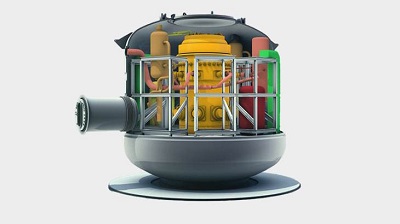 Concept schematic of the proposed Nuward SMR. Source: TechniAtomeThe Reuters news agency quoted an EDF spokesperson as saying that primary markets could include the Middle East and Asia, and that the technology could be used for water desalination projects and for producing hydrogen.
Also in September, the ship-based SMR Akademik Lomonosov arrived at its permanent location in Pevek, Chukotka, in Russia's Far East, where it is expected to start operations by the end of 2019. Russian nuclear company Rosatom said the plant is equipped with two KLT-40C reactor systems (each with a capacity of 35 MW), similar to those used on icebreakers.
In May, power engineering firm Sargent & Lundy said it would work with U.S.-based NuScale Power to further develop a separate SMR for commercial deployment. The firm also said it would make an undisclosed financial investment in the technology.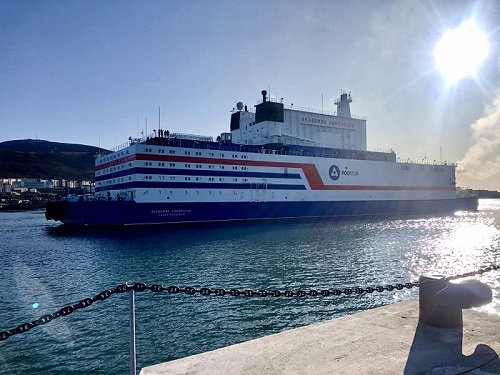 In mid September, the ship-based SMR Akademik Lomonosov arrived at its permanent location in Russia's Far East. Source: RosatomFluor Corp. is the EPC lead for plant construction and will work with NuScale and Sargent & Lundy on aspects of the NuScale standard plant design. Doosan Heavy Industries and Construction also signed on to help NuScale Power develop and deploy an SMR. The agreement includes potential Korean financial investors who plan to make a cash equity investment in NuScale.
SMRs can be used for power generation, process heat, desalination or other industrial uses, and can use light water as a coolant or other coolants such as a gas, liquid metal or molten salt.
Advocates say that SMRs offer multiple advantages, such as relatively small size, reduced capital investment, ability to be sited in compact locations and provisions for incremental power additions.