Cryogenic Rocket Engine Hot-Tested in India
Engineering360 News Desk | July 22, 2015
India's first high-thrust cryogenic rocket engine generating a nominal thrust of 19 tonnes has been successfully endurance hot-tested for 800 seconds, India's space agency says.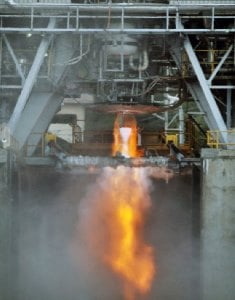 Test firing of ISRO's high thrust cryogenic rocket engine. Source: ISROThis duration is approximately 25% more than the engine burn duration in flight, the Indian Space Research Organization (ISRO) says. The engine will be used to power the cryogenic stage (C25), the upper stage of the next generation GSLV Mk-III launch vehicle, which is capable of launching four-tonne-class satellites.
The engine was conceived, configured and built by Liquid Propulsion Systems Center (LPSC), which is responsible for developing liquid propulsion systems for the Indian space program.
The engine design included experts from different fields such as fluid dynamics, combustion, thermal, structural, metallurgy, fabrication, rotor dynamics and control components working together.
The recent endurance hot test is the 10th in a series of tests planned and executed as part of the engine's development. Its performance matches pre-test estimates made using modelling and simulation software, ISRO says.
Further tests are planned in high altitude conditions and in stage configuration, prior to the flight stage realization.
Related links:
Related articles:
Lunar Lander: How One Engineer's Persistence Led to Apollo Success