Desalination membrane based on nanowood
S. Himmelstein | August 12, 2019
The sustainable nature of water desalination systems can be enhanced with the availability of distillation membranes sourced from a renewable material with the desired thermal and hydrophobic characteristics. A nanostructured wood membrane was demonstrated by an international research team to be more efficient relative to petroleum-based plastic membranes commonly used for desalination.
Samples of American basswood were treated to remove hemicellulose and lignin, followed by treatment with silane to impart hydrophobicity. The wood was then sliced into sheets about 500 microns thick and suspended over a source of water vapor. As the water is heated and moves into a gas phase, the molecules become just small enough to squeeze through the tiny channels within the treated wood, allowing salt-free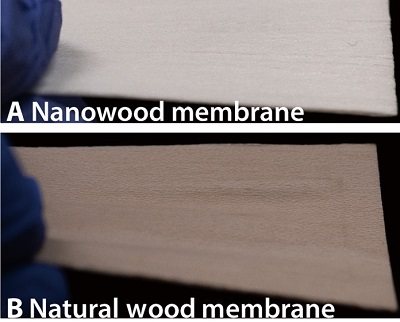 (A) Photo of the hydrophobic nanowood membrane. (B) Photo of the hydrophobic natural wood membrane. Source: Dianxun Hou et al.water to accumulate on the top side.
During experiments, the nanowood material exhibited good water flux and excellent thermal efficiency of up to 70%, comparable to or even higher than commercial polymeric membranes derived from petroleum products. The exceptional thermal efficiency was attributed to its high intrinsic permeability and low thermal conductivity, which promoted convective and conductive heat transfer, respectively. The nanowood membrane also produced 1.2 times the freshwater permeate of the commercial polytetrafluoroethylene membranes per kilojoule of heat energy at 60° C.
Researchers from the University of Maryland, Princeton University, University of Colorado, Norwegian University of Science and Technology, Chinese Academy of Sciences and University of California Los Angeles contributed to this study, which is published in Science Advances.