Selecting the correct valve rotor
Shawn Martin | August 01, 2019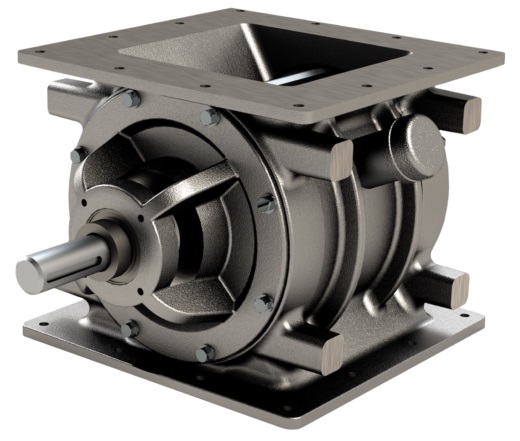 Source: ACS ValvesACS Valve's ICS rotor valves can be equipped with a number of different rotors and in several different materials including 304, 304L, 316, 316L or 2205 cast stainless steel valve housing. They are available in 10 different heights ranging from 10 in to 44 in and are equipped with a square-flange that ranges from 6 in to 26 in. The ICS rotor valves also feature CNC-machined components, an outboard bearing design, a quick-clean feature and excellent performance in high-temperature applications up to 750° F.
The ICS rotor valve is completely customizable and is available with a full suite of rotors to address bulk material demands in construction, plastics, food and beverage, pharmaceutical and chemical industries.
An open-end rotor is available for dust collection and pneumatic conveying applications. It minimizes leakage typically experienced with lighter materials including flour, limestone and other dry bulk materials. They are available with six to 12 vanes, can be designed to address National Fire Protection Association (NFPA) compliance requirements and the 10 to 12 vane rotors are ideally suited for higher-pressure pneumatic conveying applications.
Flex-tip rotors are not NFPA-compliant but are available to address hard-to-move fibrous products including sawdust, plastic pellets, plastic flake and wood pellets. The tips of these rotors bend out of the way to maintain a tight seal as material passes through them.
Helical rotors address other hard-to-move products. They slice through bulk wood chips and wood dust, ensuring jams are prevented.
Radius pocket rotors, another type of open-end rotor, are available for food-grade and sanitary applications. These rotors feature U-shaped pockets, which are easier to clean and are resistant to compaction of sticky materials that typically pile up on the grooves of conventional V-shaped pockets.
Scraper rotors are also available for sticky granulated chemicals and food materials. These rotors feature two scraper rotor tips positioned 180° apart and held to closer tolerances than the other blades of the rotor. These tips aid in cleaning the interior housing and endplates reducing cleaning and maintenance time.
Staggered pocket rotors are available for metering applications where a consistent feed rate and a smoother flow of materials is desired. These rotors feature short breaks between points where material flows. Standard sizes feature offset pockets on a staggered rotor. For specialized sampling and dosing applications where even tighter control is required, metering rotors are available with 30 smaller pockets, or radius grooves. They convey free-flowing materials at a highly controlled rate and are available for smaller valves of 8 in or less.