Modular drilling system with a carbide tip
Shawn Martin | July 25, 2019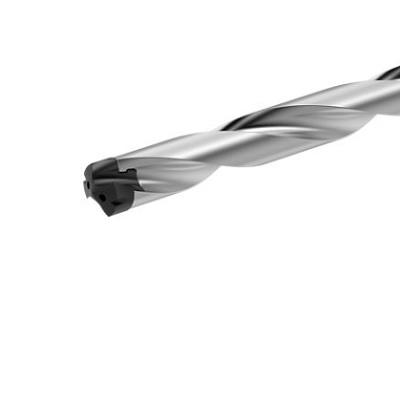 Source: Kennametal Inc.Kennametal's new KenTIP FS modular drilling system is a through-hole drill bit with a carbide tip insert. The drill bit is available in a diameter range of 6 to 26 mm with a three-point geometry, three different high-performance grades and three different shank styles.
The carbide tip inserts are coupled to the drill bit via an intelligent interface. The tapered interface provides for rigid clamping to the tool body. It features a retention lock and a large bearing surface positioned for transmitting high torsional loads without pocket deformation.
The large, polished flutes of the modular drilling system allow for high flow which facilitates the evacuation of chips and extends tool life. The tool system also provides multiple coolant delivery points with fluid delivered to the drill point and the rake face further extending tool life.
Case study: Through-hole drilling of grey cast iron
The KenTIP FS modular drilling system provided a measurable advantage when drilling a series of 10.5 mm holes, 5 mm deep in gray cast iron (GG25). Operated by a 30-taper, 3.7 kW drill/tap center, the KenTIP FS provided for an 82% increase in tool life. An increase of 4,100 holes per edge was achieved while at the same time reducing tool exchange time optimizing machining efficiency.