Tiny fiber-optic sensor provides continuous blood flow monitoring
S. Himmelstein | July 11, 2019
Measurement of blood flow during surgeries and in intensive care settings is currently performed intermittently, leaving data gaps for those caring for critically ill patients. To overcome this limitation, a minimally invasive optical flow sensor has been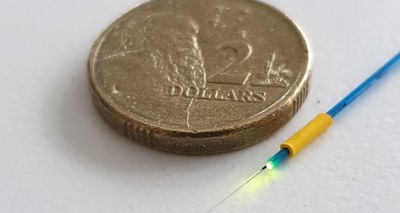 The tip of the sensor can measure blood temperature changes with the aid of LED technology. Source: Flinders Universitydesigned by biomedical researchers at Flinders University, Australia, to provide continuous, real-time blood flow monitoring in adult as well as neonatal patients.
The narrow fiber-optic sensor-catheter device can be inserted through a keyhole aperture in the skin into the femoral artery in individuals with compromised heart function. The low-cost prototype combines a fiber Bragg grating sensor and a 565 nm LED. Illumination from the LED heats the blood and fluctuations in temperature, due to variations in flow, are detected by the fiber sensor.
Tests conducted with a simulated cardiac circulation setup demonstrated that the optical fiber sensor returned blood flow measurements comparable to those obtained with a conventional ultrasound flow sensor.
The researchers plan to conduct additional studies on the performance of the new sensor under varied physiological conditions, and to assess various encapsulations focused on human safety.