Bearing preload: What is it and why is it important?
Ken Thayer | June 11, 2019
Applications such as machine tool spindles, electric motors and automotive differentials require precision rotary motion with a higher degree of stiffness and positional accuracy. To achieve this, a sustained load must be applied to the bearings during assembly to remove excess play. This is referred to as preloading the bearing.
Along with the elimination of clearances, preloading bearings also increases the stiffness of the assembly, improves rotational accuracy and decreases noise due to vibration or resonance. Additionally, preloading eliminates skidding of rolling elements and keeps them in the proper location in the bearing.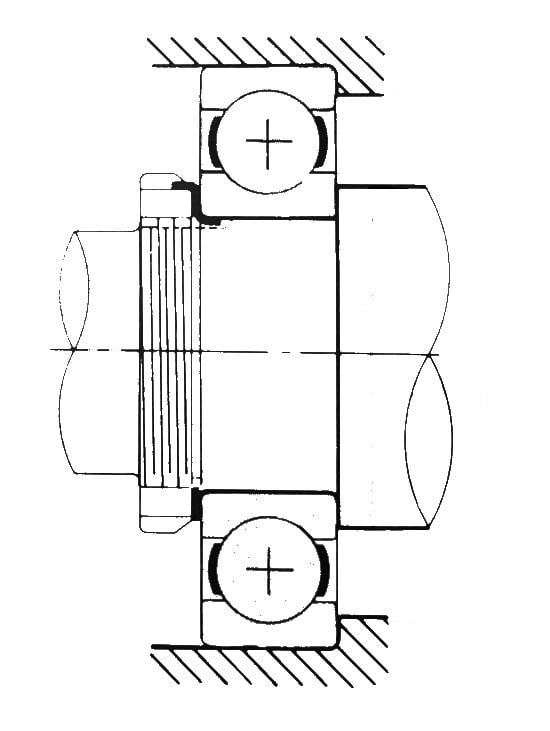 Deep groove ball bearing preloaded by nut against shaft shoulder; Source: IEEE GlobalSpecMany types of rolling element bearings require some form of preload for proper operation, including angular contact ball bearings, tapered roller bearings and cylindrical roller bearings. Deep groove ball bearings can be preloaded, but it is not required in most applications.
The amount of preload applied is important. It must be sufficient to reduce the excess play, but care must be taken not to apply too much preload. Proper preload allows the rolling elements to freely rotate in the bearing races, while excessive preload could lead to skidding. This will increase friction and heat generation, which can ultimately lead to premature bearing failure.
The preferred method of locating bearings on a shaft or housing is to provide a shoulder that is machined perpendicular to the shaft axis. The shaft and housing shoulders locate one surface of the bearing, assuring the loading will be in line with the shaft axis. The shoulder should be large enough to exceed the point of tangency between the corner radius and the face of the bearing, but small enough to allow for bearing removal with standard bearing pullers.
Bearing manufacturers provide tables or calculators indicating the proper shoulder dimensions and tolerances for each bearing type and size. Depending on the bearing type, the preload is applied either radially or axially.
Bearing types
Ball bearings
All radial ball bearings that require a preload must be loaded axially. When an axial load is applied to the inner ring of the bearing, the race of the inner ring comes in contact with the rolling element and translates this load to the raceway of the outer ring. This creates a line of contact between the inner race, the ball and the outer race that is referred to as the contact angle. Preloading of angular contact bearings is mandatory, while preloading of deep groove ball bearings is optional.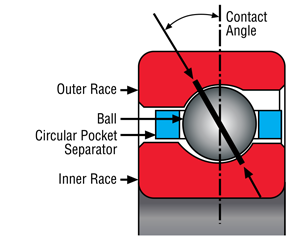 Contact anlgle for angular contact bearing; Source Kayden Bearing
Contact angles for deep groove radial bearings are small, measuring 8° or less. Angular contact bearings are machined to have larger contact angles when preloaded, typically 15°, 25°, 30° or 40°. The amount of the contact angle is predetermined and designed into the bearings. Angular contact bearings can carry both radial and axial loads due to this larger contact angle.
Angular contact bearings that are manufactured in matched pairs are referred to as duplex bearings. Duplex bearings are manufactured to be stack-mounted with the bearing faces adjacent to each other. The raceways of duplex bearings are slightly offset but come together when the proper preload is applied during assembly.
Duplex bearings are ordered as a pair and are machined to provide an assembly with flush faces when assembled. The preload for duplex bearings is built-in once the faces are drawn together. Several duplex mounting arrangements are possible by changing the orientation of the bearings in the duplex bearing set.
Back-to-back is the most common duplex bearing arrangement. Before assembly, the bearings feature a clearance between the inner ring faces. When assembled, the inner rings are clamped together, bringing the inner ring and outer ring faces flush with each other and resulting in contact angles that diverge towards the shaft centerline. Back-to-back duplex bearings offer maximum stiffness and equal thrust capacity in either direction. They are good for applications such as pulleys and sheaves with overturning loads or where the shaft is subject to thermal expansion.
Face-to-face bearings are mounted in the opposite arrangement of back-to-back bearings. Before assembly, there is a clearance between the outer rings. After preloading, the outer ring faces and inner ring faces are clamped together, bringing the faces flush with each other and resulting in contact angles that converge towards the shaft centerline. They offer equal thrust capacity in either direction and also provide radial and axial rigidity. They should be avoided in applications with high moment loading or that are prone to shaft thermal expansion.
Tandem mounting is the third mounting arrangement for duplex bearings. Two or more bearings are arranged in the same orientation relative to each other, such that the inner ring faces and outer ring faces are offset and parallel to each other before mounting. During assembly, the inner rings are clamped together, resulting in contact angles that are parallel to each other and increases the thrust capacity in one direction only. Two bearings provide double the thrust capacity, three would triple it, and so on. Tandem mounting of two bearings requires double the normal preload.
While all of the arrangements can handle radial loads, the arrows in the image below indicate the direction of permissible thrust load loads. Back-to-back and face-to-face can accommodate thrust loads in either direction.

Universal arrangements for angular contact ball bearings; Source: Wuxi FSK Transmission Bearing
Roller bearings
Tapered roller bearings are preloaded in the same manner as angular contact bearings. Like angular contact bearings, they can be mounted in single, back-to-back or face-to-face arrangements. The resulting contact angles between the rolling elements and bearing races also resemble those found in angular contact bearings.
Tapered roller bearing mounting arrangements; Source: SKF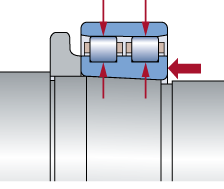 Preloading a cylindrical roller bearing with a tapered bore; Source: SKFPreloading of back-to-back tapered roller bearings requires clamping the inner rings together, typically between a nut and shaft shoulder. Preloading of face-to-face bearings requires clamping the outer rings between a housing shoulder and clamping ring or externally threaded nut.
Cylindrical roller bearings also require a preload for proper operation, however, the load is applied radially instead of axially. If the bearing has a tapered bore the bearing is driven onto the taper, resulting in an interference fit. This causes the inner ring to expand and exert a radial force on the rollers to create the proper preload.
Preload methods
The two main methods of bearing preload are rigid and spring. Each has advantages and disadvantages compared to the other method.
Rigid preload
Rigid preloads are obtained by applying a load with a precision locknut or clamping element that has faces machined flat and perpendicular to the axis. The nut applies an axial load to the inner or outer bearing ring, with the opposing side located against a shoulder on the shaft or housing. Spacers may be used between individual bearings so that one locknut or clamping element can be used to preload multiple bearings. Shims may also be used to obtain the proper preload.
Rigid preloading provides the higher radial and axial rigidity characteristics, but speeds may be limited compared to spring preloading. Thermal expansion of the shaft and housing due to temperature changes can vary the amount of preload during operation.
Other terms for rigid preload include fixed constraint preload and position preload.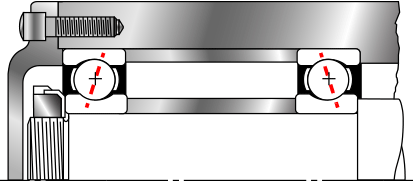 Two bearings separated by spacers and preloaded by a single locknut; Source: National Precision Bearing
Spring preload
Spring preloading with wave washer; Source: SmalleyIn spring preloading, sometimes referred to as constant pressure preloading, an axial force is applied to the non-rotating inner or outer bearing ring by spring. Wave springs, coil springs, Belleville springs (washers) and finger springs can be used. Wave springs, Belleville springs and finger spring are easier to implement as they can be placed directly between the bearing ring and a mounting surface.
Spring preloading is good for applications subject to thermal expansion since the force applied by the spring is relatively constant throughout its compression. Springs also eliminate the need to hold tight tolerances. Additionally, spring preloading reduces noise and can withstand high operating speeds.
Another option for spring preloading is to use a constant-force adjustable spacer, a unique product manufactured by Temper Corporation. These load rings, as Temper refers to them, are adjustable spacers
Constant Force Adjustable Spacers; Source: Temper Corporationthat are compressed at a constant force and can spring back a small, constant value that produces a known force.
They serve two main purposes:
They take up the stack tolerances in a bearing assembly
They adjust bearings and an assembly to a specific setting
Adjustable spacers eliminate the need for shimming, simplify assembly, improve accuracy and help optimize bearing life. The following video from Temper Corporation displays the load ring deflection on a tapered roller bearing.
Conclusion
Proper understanding of when and how to preload a bearing is critical in precision rotary applications, especially in high-speed applications. A bearing that is preloaded properly will have higher rigidity, operate more quietly and accurately and yield a longer service life. Several different options are available for design engineers to select from, but the basic principle is the same for all of them.
Related Engineering360 articles
Suppliers mentioned in this article: