New water purification device inspired by an origami rose
Marie Donlon | May 30, 2019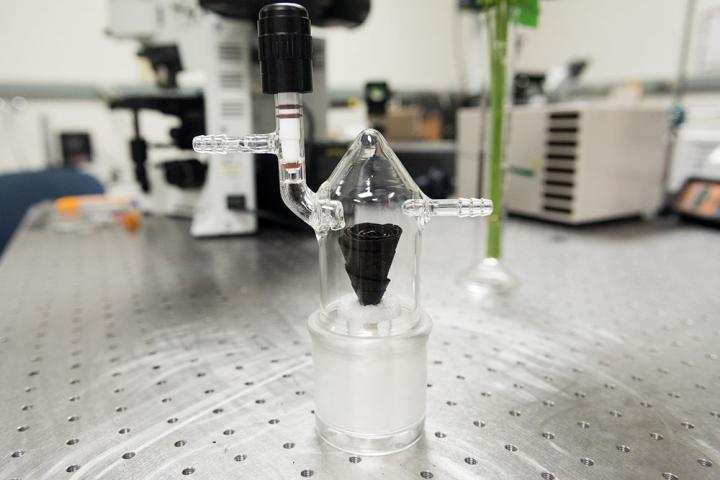 An origami rose provided the inspiration for developing a new kind of solar-steaming system made from layered, black paper sheets shaped into petals. Source: Cockrell School of Engineering, The University of Texas at AustinA new water purification device developed by researchers at the University of Texas takes inspiration from an unexpected source: an origami rose.
The device is composed of layered, black paper sheets arranged to resemble the petals of a rose. An attached tube behaves like a stem, collecting untreated water from different water sources. The paper sheets and tube are contained in a glass jar.
Using the device, researchers took a new approach to solar steaming, which is a method for producing water using energy from sunlight to separate salt and other impurities from water via evaporation.
The system collects water through the stem-like tube, feeding it to the rose-shaped structure at the top, or collects water from rain hitting the petal-like papers from above. Either way, water arrives at the petals, where the black paper sheets - coated with a polymer called polypyrrole that successfully converts solar light into thermal heat - turns the water into steam, naturally separating impurities from the water. The end result is clean water that meets drinking standards set by the World Health Organization.
While current methods of solar steaming are typically expensive, bulky and only produce limited yields, the rose-like design of the new system efficiently collects and retains liquids using inexpensive, portable and lightweight materials. Similarly, the new device is capable of producing more than half a gallon of water per hour, per square meter, according to the research team led by associate professor Donglei Fan in the Cockrell School of Engineering's Walker Department of Mechanical Engineering
"We designed the purification-collection unisystem to include a connection point for a low-pressure pump to help condense the water more effectively," said Weigu Li, a Ph.D. candidate in Fan's laboratory and a lead author on the paper. "Once it is condensed, the glass jar is designed to be compact, sturdy and secure for storing clean water."
"Our rational design and low-cost fabrication of 3D origami photothermal materials represents a first-of-its-kind portable low-pressure solar-steaming-collection system," Li said. "This could inspire new paradigms of solar-steaming technologies in clean water production for individuals and homes."
The research is detailed in the journal Advanced Materials.