Electric, undersea drone transforms between autonomous and remote control modes
Peter Brown | May 10, 2019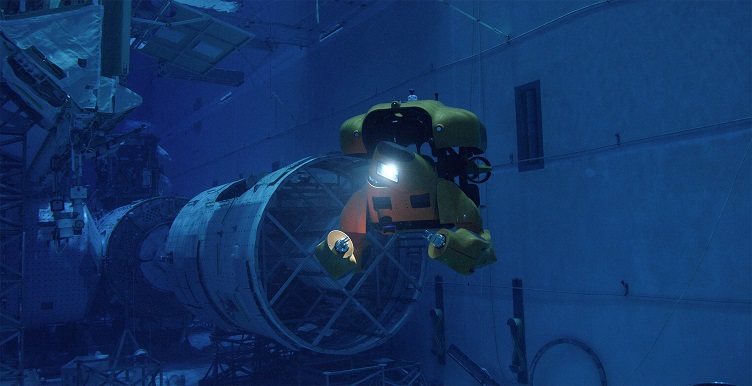 The Aquanaut will be deployed later this year or early in 2020. Source: Houston Mechatronics
Texas-based Houston Mechatronics has completed assembly and testing of its multi-mode, transforming, all-electric, undersea vehicle.
The vehicle, called the Aquanaut, has two operating modes. In autonomous underwater vehicle (AUV) mode, Aquanaut collects data with a sensor array on offshore infrastructure, such as oil rigs, without human intervention, and has a long-distance range of over 120 miles. In remotely operated vehicle (ROV) mode, the Aquanaut hull uncovers two, eight degrees-of-freedom robotic arms, additional thrusters and a payload bay for completion of underwater tasks by a remote operator.
Testing of Aquanaut had been underway at NASA's Neutral Buoyancy Laboratory for about a year, before final assembly of the underwater drone was announced. Aquanaut is now undergoing validation and will be exposed to different types of conditions before being deployed either late this year or early next, Houston Mechatronics said.
The commercial and industrial autonomous underwater drone and ROV market has been growing for the past couple of years with numerous companies developing robots for personal use and surveying. Some have developed ROVs to research deep-sea animals without disturbing their natural environment. Others have developed ROVs to operate in offshore oil and gas platforms to depths of 3,000 meters below sea-level.
The majority of the developments, however, have been in the commercial sector with undersea drones that can tilt-up and take photos. Many of these ROV/AUVs come tethered so that they can operate for longer periods of time while others run on lithium ion batteries or can be handheld in a pool or the ocean.