Startup selling cleaning solution in tablet form to eliminate single-use plastic packaging
Marie Donlon | April 24, 2019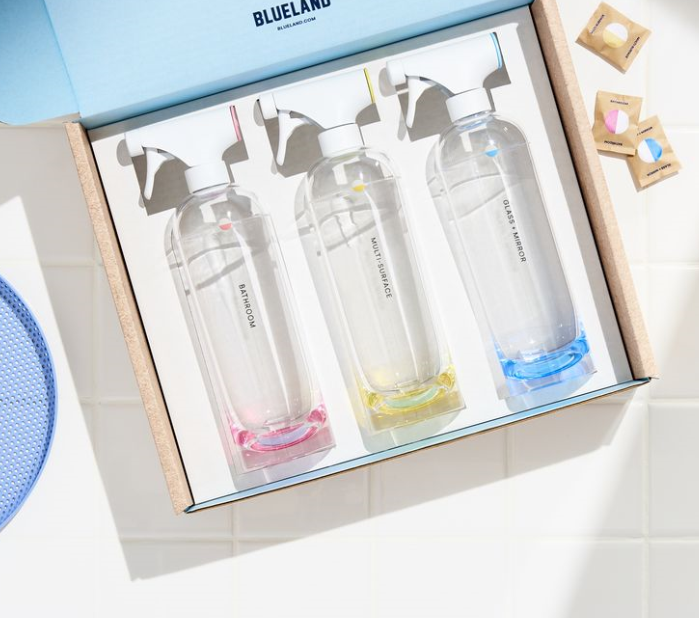 Source: BluelandIn a bid to cut back on single-use plastics, a startup is selling cleaning solution in tablet form.
The startup, called Blueland, began selling their dissolvable cleaning tablets along with 20 ounce "forever" bottles on Earth Day as an alternative to cleaning products that are traditionally packaged in plastic bottles. Currently, the collection includes tablets that when mixed with water turn into cleaning solutions designed for multi-surface cleaning, bathroom cleaning and glass and mirror applications. The different cleaning solutions, which can be purchased together or separately, can be re-ordered while the forever bottles are designed for repeated use by the customer, thereby eliminating plastic waste.
Inspired in part by Blueland's co-founder Sarah Paiji Yoo's efforts to reduce her single-use plastic consumption only to be thwarted by the number of cleaning products that come in plastic packaging, Blueland products are roughly 300 times lighter, 200 times smaller and 30 times cheaper to ship than traditionally packaged cleaning products. Likewise, the tablets are reportedly non-toxic and environmentally friendly as they are composed of bio-based, non-toxic ingredients.
To ensure that the products met environmental standards, Blueland partnered with the environmental standards certifying non-profit Cradle to Cradle.
"They are evaluating every aspect of our product and supply chain, as well as the materials we use [and] how those materials are treated [and] disposed of," said Paiji Yoo. "In partnering with them, we've made sure both our products as well as our packaging are Platinum certified [by Cradle to Cradle]. So, for example...all our tablets come packaged in a recyclable and compostable paper packaging, which is really great because in the world of cleaning products...refills as they exist today [are] just either a larger plastic bottle that you're using or refills are coming in these thicker plastic bags that actually aren't recyclable."
Blueland products are available on the Blueland website.