Laser probe uses optical polarization to pinpoint melanoma
S. Himmelstein | March 11, 2019
The accuracy of distinguishing between melanoma, non-melanoma skin cancers and benign moles is increased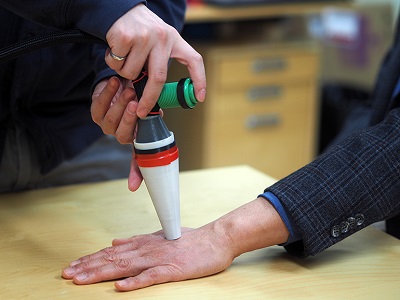 The handheld optical probe screens for skin cancer. Source: University of British Columbiawith a prototype optical diagnostic designed by researchers from the University of British Columbia and Heriot-Watt University, U.K.
The inexpensive laser probe provides the required measurements without needing complex lenses or cameras, and generates an easily interpreted numerical result similar to that of a thermometer. The researchers directed the laser onto tissue from volunteer patients and observed changes to the light beam. Larger and denser than healthy specimens, the presence of cancer cells results in distinctive scattering of the light waves. This degree of polarization serves as an optical measurement for skin tissue analysis.
Analysis of 69 skin lesions demonstrated a higher degree of polarization for melanoma relative to other lesions, and a correlation between backscattered polarization and skin roughness was determined. The researchers plan to follow this proof of principle assessment, which is published in the Journal of Biomedical Optics, with more extensive clinical testing of a greater number of lesions and with an updated device.