Lignin-Based Composite Could Boost 3D Printing Economics
Engineering360 News Desk | December 28, 2018
New research could improve the economics of biorefinery operations with a value-added use for lignin, the material often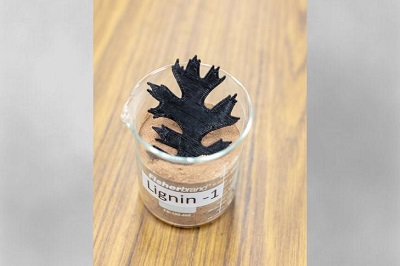 A new composite material containing as much as 50% lignin by weight is well suited for use in 3D printing. Source: ORNLdiscarded after biomass processing. Researchers from Oak Ridge National Laboratory (ORNL) combined a melt-stable hardwood lignin with conventional plastic to form a lignin-based printing material.
The composite, which includes a low-melting plastic and carbon fiber, features excellent extrusion and mechanical properties. As lignin can only be heated to a certain temperature for extrusion from a 3D printing nozzle before its viscosity increases, low-melting nylon was added to increase room temperature stiffness and reduce melt viscosity of the composite.
The printing material used a higher percentage of lignin than previously used -- 40 to 50% by weight -- along with 4 to 16% carbon fiber. These proportions yielded a strong composite that heats up easily and flows quickly to speed the printing process.
The research, which is published in Science Advances, points to using lignin as a feedstock for formulating 3D-printing materials with suitable mechanical and printing characteristics as substitutes for petroleum-based feedstock.