Tough, Green Version of ABS Is Developed at Oak Ridge
Riia O'Donnell | March 30, 2016
Working to create a new thermoplastic material that is as light and strong as ABS but is not based on petroleum stock, researchers at the U.S. Department of Energy's Oak Ridge National Laboratory (ORNL) have developed a material known as ABL.
ABL (acrylonitrile, butadiene, lignin) uses a variety of lignin to make the material more eco-friendly when manufacturing, and gives it the ability to be melted up to three times without losing mechanical strength. The material includes equal parts of lignin and synthetic nitrile rubber, and the extruded product has better performance than ABS currently available, researchers say.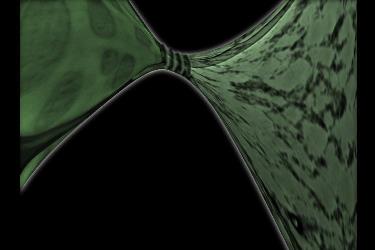 A thermoplastic developed at Oak Ridge National Laboratory contains 50% renewable content. Image source: ORNL; conceptual art by Mark Robbins.Creating the material required the ORNL team to overcome several challenges. First was determining which variety lignin-rich biomass available from the stream of biorefineries, pulp and paper mills to use. Lignin can be brittle, but the most thermally stable variety is found in hardwood waste.
To make the material more elastic, the researchers sought to couple it with soft matter. To do so, they added nitrile rubber, which, like lignin, contains unequally distributed electrons. With similar distributions, the materials were more likely to interact: the team was able to couple the two without solvents in a melt phase process. Using a heated chamber and dual rotors, the powdered lignin and nitrile rubber were "kneaded" in equal parts. The lignin agglomerates broke into interpenetrating layers that dispersed and interacted with the rubber. The resulting material was a hybrid of the two that offered nitrile's elasticity and lignin's strength.
A second challenge was to tune the processing conditions for optimal performance. The researchers found that 41% acrylonitrile gave them the balance of mechanical properties between toughness and stiffness they required. The material is developed at 140 to 160 C. The team says they believe the new material can be used in the automotive industry, where many bumpers are currently made with ABS. They are also exploring ABL's use in carbon fiber reinforced composites.