Saelig Introduces USB 3.0 Super Speed Isolator
Engineering360 News Desk | December 06, 2018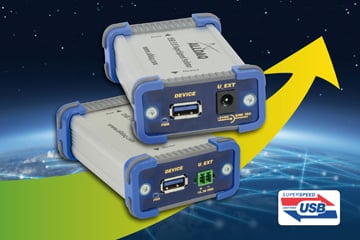 Saelig has introduced the Alldaq ADQ-USB 3.0-ISO series of USB 3.0 isolators, which support the full USB 3.0 super speed data rate of 5 Gbit/s. This allows USB 3.0 super speed devices to be electrically isolated from a host PC or other peripherals at full performance. The re-clocking design guarantees a stable USB connection at all speeds. The ADQ-USB isolators can be used for the electrical isolation of USB measurement instruments to avoid ground loops to solve problems in industrial and automotive applications as well as in professional sound studios and event and show equipment.
The ADQ-USB 3.0-ISO isolators automatically detect super speed (5 Gbit/s), high-speed (480 Mbit/s), full-speed (12 Mbit/s) or low-speed (1.5 Mbit/s) connections. The model ADQ-USB 3.0-ISO-PS includes a +5 V power adapter with a lockable 5.5 mm barrel connector (bayonet lock) for safety. For industrial and automotive applications, the ADQ-USB 3.0-ISO-W version can accept 10 to 36 V DC from an external power source via a two-pin lockable Phoenix-type connector to power devices with up to 900 mA. The external power input is protected against reverse polarity and short-circuits.
The isolation voltage between PC and USB devices is 1 kV (continuous) for the model ADQ-USB 3.0-ISO-PS and 1.0 kV (less than 60 seconds) for the model ADQ-USB 3.0-ISO-W. The ESD protection of the data lines is ensured by transient-voltage-suppression diodes up to ±12 kV (contact discharge) and ±15 kV (air-gap discharge) according to IEC 61000-4-2. Without an external power supply, the USB isolator can source up to 200 mA at the device port. For USB devices requiring more current, the external power supply version ADQ-USB 3.0-ISO-W can provide 900 mA according to the USB 3.0 specification. The Alldaq USB 3.0 isolators are compatible with Windows, MAC OS and Linux systems, and downward-compatible with USB 2.0/1.1/1.0 equipment.
Housed in an aluminum housing with rubber bumpers and designed for an operating temperature of -20 to 70° C, the Alldaq USB 3.0-ISO isolators are suitable even for applications in harsh environments. An optional DIN rail mounting kit is also available for permanent installations.
The ADQ-USB 3.0-ISO can protect computers and USB devices against interference voltages, while also eliminating ground loops. Typical applications include: electrical isolation between measurement instruments and PCs, rejection of ripple pickup in studio equipment, removing differing ground potentials in industrial control equipment and protection against voltage peaks in automotive set-ups.
Compact in size (3.6 in x 2.5 in x 1.3 in — L x W x H, including rubber bumpers) and weight (4.5 oz), the ADQ-USB 3.0-ISO series of USB 3.0 isolators is made in Germany by Alldaq, a manufacturer of a wide range of measurement solutions for use in industry, research, servicing and education.