Decommissioning Milestone for Space Fuel Plant
S. Himmelstein | November 07, 2018
Equipment contaminated with plutonium from the manufacturing of fuel for deep space missions has been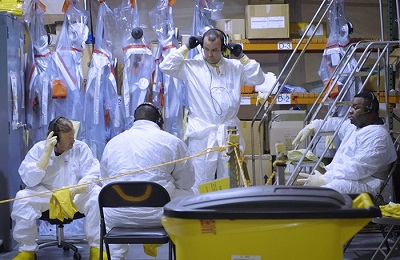 Operators prepare for training in the 235-F mock-up. Source: DOE Office of Environmental Managementremoved from the 235-F building at the U.S. Department of Energy's Savannah River site. The removal marks a milestone in reducing risk at the South Carolina facility, which has been inactive for more than 25 years.
The Plutonium Fuel Form (PuFF) Facility located in 235-F was used to make fuel spheres and pellets out of plutonium-238 (Pu-238), which powered deep space missions, including the Galileo space probe to Jupiter, which launched from the Space Shuttle Atlantis.
About 1,500 grams of Pu-238 were estimated to remain within nine cells of thick concrete walls with shielded windows. Personnel practiced cleanup work in a mock-up of 235-F prior to actual removal, and new and existing technologies have been developed to locate and remove the Pu-238 or to fix it to ensure that it remains immobile during decontamination activities. Material to be removed includes wires and manipulator handles, and it will be stored for eventual packaging and shipment to the Waste Isolation Pilot Plant in New Mexico.