Nutrient Recovery from Seafood Processing Effluent
S. Himmelstein | November 05, 2018
Seafood processing plants generate enormous volumes of wastewater: about 7,000 of 8,000 liters of water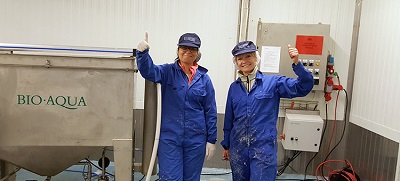 Source: Chalmers University of Technology are used when processing one ton of marinated herring, and about 50,000 liters are used when boiling and peeling one ton of shrimp.
The effluents generated are laden with proteins and micronutrients, and an experimental system was demonstrated to recover these constituents for use as fish feed in microalgae cultivation and other applications. The Nordic project NoVAqua (Extracting Novel Values from Aqueous Seafood Side Streams) led by researchers from Sweden's Chalmers University of Technology developed a two-step method that recovers up to 98% of the protein and 99% of the omega 3-rich fats from these process waters.
Flotation and dehydration yield a semi-solid biomass and a nutrient-rich liquid. Biomass from shrimp boiling water proved to be a useful ingredient in feed for salmon. The liquid was tested for glazing frozen fish to prevent spoilage and was observed to be more protective than water, which is currently used for such glazing. The fluid has enhanced the growth of two types of algae that can be used as protein or pigment sources in microalgae-cultivation.
The NoVAqua project wrapped up earlier this year, and the AquaStream project is now looking into ways of bringing down the cost of the process and implementing it in commercial seafood-processing centers.