Watch: How Carbide Inserts Are Made
Ken Thayer | September 26, 2018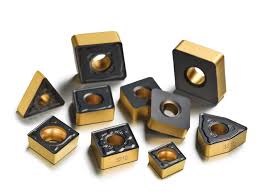 Carbide Inserts. Source: Sandvik Coromant
Anybody who uses a metal cutting machine tool has almost certainly used a carbide insert. Cutting tool inserts manufactured out of carbide are a critical metal cutting tool commodity used for boring, turning, cutoff, drilling, grooving, hobbing, milling and threading applications.
Carbide materials exhibit high hot hardness and excellent wear resistance. Carbide inserts are much harder than high-speed steel, making them an ideal metal cutting solution. Coatings, such as Titanium Nitride (TiN), Titanium Carbonitride (TiCN), Titanium Aluminum Nitride (TiAlN) and Aluminum Titanium Nitride (AlTiN) extend insert life by providing additional resistance to wear.
To perform these different cutting operations, carbide inserts are manufactured in a variety of different geometric shapes tailored to each application.
Round or circular inserts are used for button mills or in radius groove turning and parting. Button mills, also referred to as copy cutters, use circular inserts with a significantly radiused edge that permits enhanced feed rates and depth of cuts at lower power. Radius groove turning is the process of cutting radial grooves into a round part. Parting is the process of cutting completely through a part.
Triangular, square, rectangular, diamond, rhombic, pentagon and octagon shapes have multiple cutting edges and allow the insert to be rotated to a new, unused edge when an edge is worn. These inserts are used for a variety of turning, boring, drilling and grooving applications. To extend insert life, worn edges can be used for roughing applications before being rotated to a new edge for finish machining.
Various tip geometries further define insert shape and types. Inserts are manufactured with many different tip angles, including 35, 50, 55, 60, 75, 80, 85, 90, 108, 120 and 135 degrees. Some common tip types include:
Ball nose inserts are round inserts with a radius one half of the cutter diameter and are used for grooves and radii.
Radius tips are found on straight-edged inserts. They have a ground radius on the tips typically used on milling cutters.
Chamfer tip inserts have an angled section on their tip and are used to cut a chamfered edge on the workpiece.
Dogbone inserts are two-edged inserts that are narrower at the center with a broader cutting surface. Dogbone tips are frequently used for grooving applications. with a narrow mounting center and, as the name implies, a broader cutting feature on both ends, often used for grooving.
Watch the video above from Sandvik Coromant to see how they manufacture carbide inserts in their Gimo, Sweden factory.

Source: Southern California Carbide