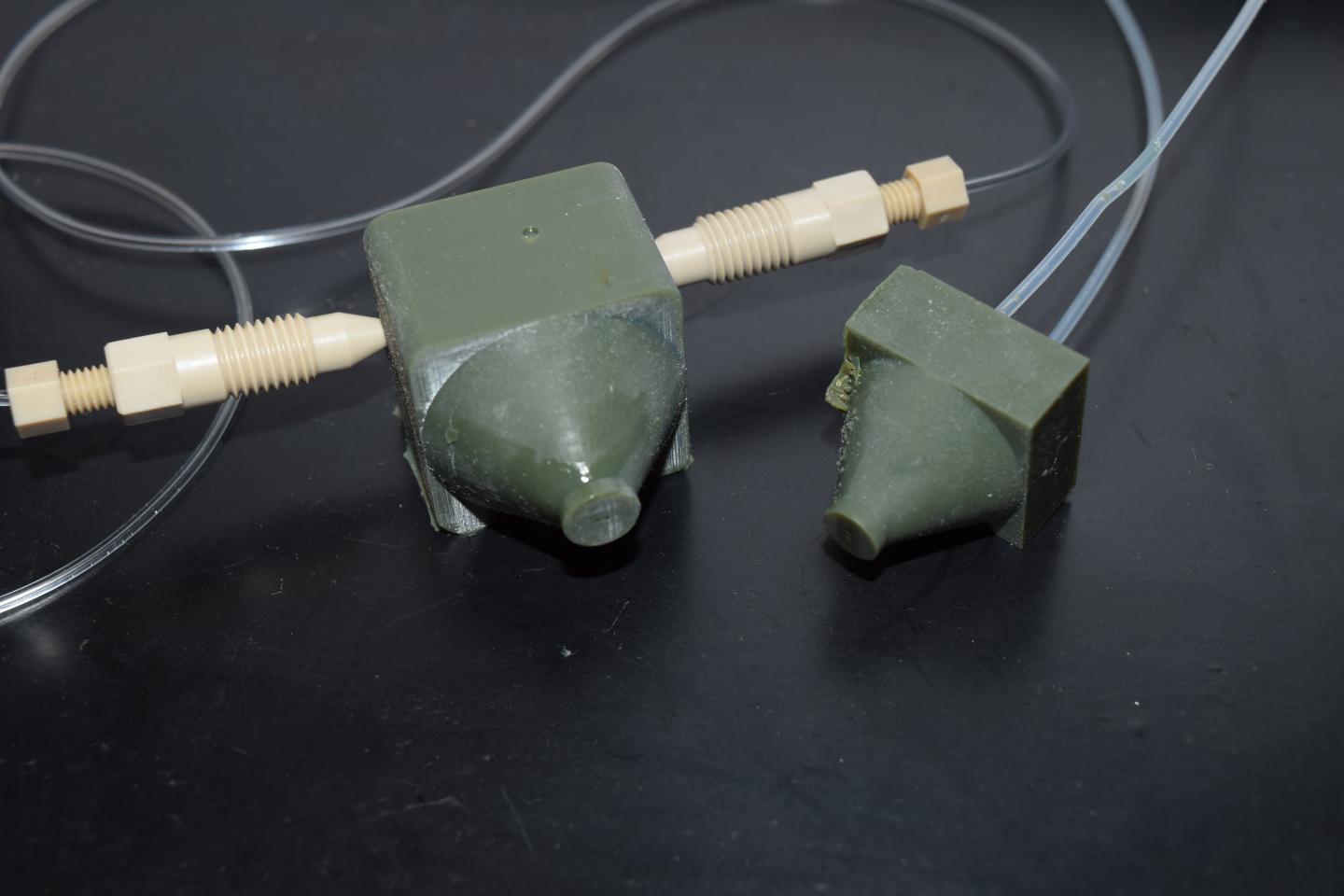 These images show a microfluidic probe printed in 3D. Cube-shaped and green-colored, this probe is about the size of a ring box, however, the design can be printed in many sizes. Source: NYU Abu Dhabi
NYU professors have teamed up and found that 3D printing can create cheap, functional and integrated microfluidic probes (MFP).
MFPs are usually made of silicon or glass. They are used to study the behavior of live cell cultures in a lab environment, like a petri dish. Rresearchers are always looking for a way to improve MFP technology. In this case, the focus has been turned to refining the MFP production process. Currently, MFPs can't be easily produced due to a complex, expensive fabrication process.
3D printers seem to be the next step in MPF development because they can produce a less expensive MFP.
"3D printers provide a simple, rapid, and low-cost technique for fabricating MFPs," said Mohammad Qasaimeh, NYU Abu Dhabi Assistant Professor of Mechanical and Biomedical Engineering. His team developed a framework to print MFPs and quadrupoles in 3D.
"It's cheaper to produce, easy to scale up, and fast to fabricate -- all steps, from design to product, can be made in less than a day," he continued, "and as a result any science lab with a moderate resolution stereolithography printer will be able to fabricate 3D MFPs on demand and use them to process cells reliably."
"3D printed MFPs can deliver reagents in a localized manner, only a few tens of cells can be targeted within the culture dish, while leaving other millions of cultured cells untouched," added Ayoola T. Brimmo, NYU Abu Dhabi Global Ph.D. Fellow in Engineering and first author of the research.
Earlier studies have used 3D-printed silicon MFPs to study the neutrophils and how they respond to moving sources of concentration gradients that mimic infections and pathogens. The research analyzed cell response to simulation and showed how migrations slow over time and the rolling-like behaviors of the cells.
The paper on the new 3D printing technique was published in Scientific Reports.