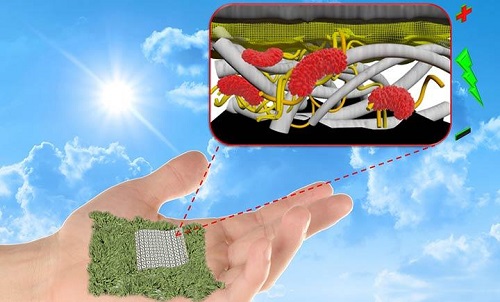 The biodegradable batteries are lightweight, low-cost and flexible to be placed on a surface or even skin. Source: Binghamton UniversityToday's connected devices and home appliances are powered by lithium-ion batteries that have become the ubiquitous power supply throughout numerous markets.
But they are not without their problems. Lithium-ion batteries have been known to experience extreme heat or even catch fire in some cases, causing damage to property and person that have been well documented. Plus, these batteries are not environmentally friendly and cause a swell in electronic waste.
In an effort to make an eco-friendly alternative for future batteries, researchers at Binghamton University have created a biodegradable, paper-based battery in a new design that is powerful enough to be used in connected devices of the future.
"There's been a dramatic increase in electronic waste and this may be an excellent way to start reducing that," said Seokheum Choi, associate professor in the Binghamton Electrical and Computer Engineering Department. "Our hybrid paper battery exhibited a much higher power-to-cost ratio than all previously reported paper-based microbial batteries."
How They Did It
The biobattery uses a hybrid of paper and engineered polymers, specifically poly (amic) acid and pyromellitic dianhydride-p-phenylenediamine. The team tested the degradation of the battery in water and it clearly biodegraded without any special requirements or facilities, or with the introduction of other microorganisms.
The polymer-paper structures are lightweight, low-cost and flexible, which could give these batteries the potential to fold onto a surface or human skin or stack on top of each other.
Because the manufacturing of the biobatteries is a straightforward process, the material allows for modifications depending on what configuration is needed, researchers said.
The full research can be found in the journal Advanced Sustainable Systems.